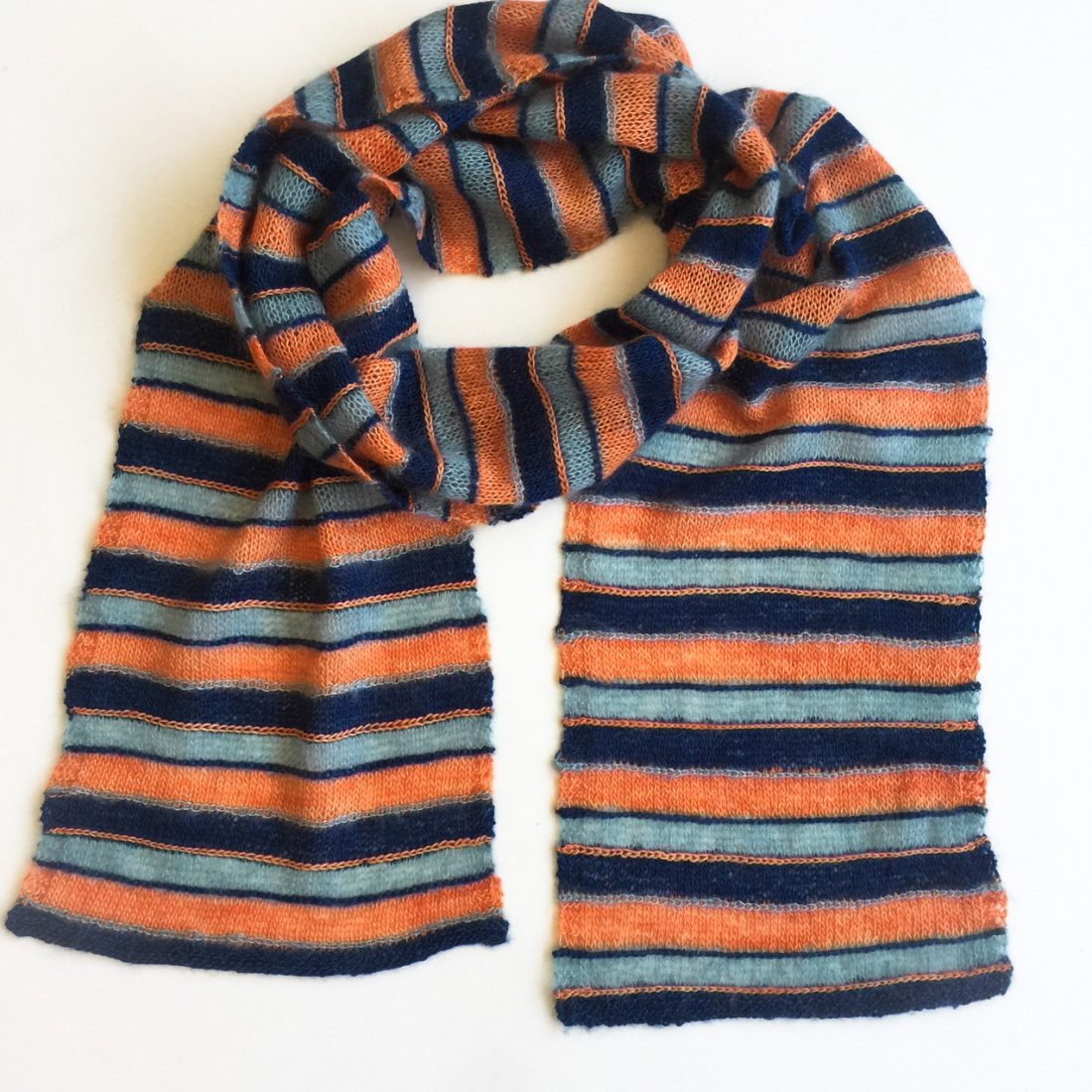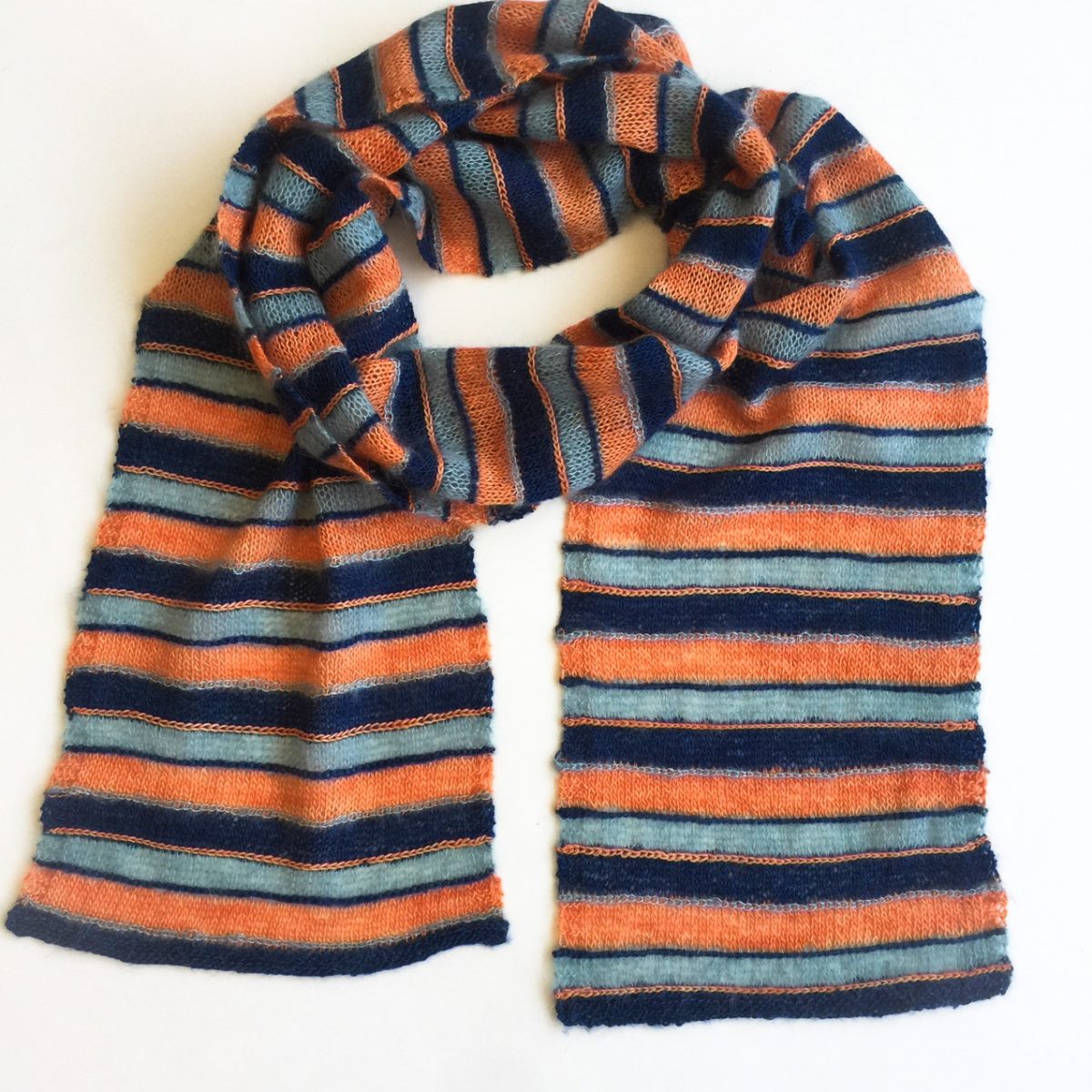 Stripe Away Scarf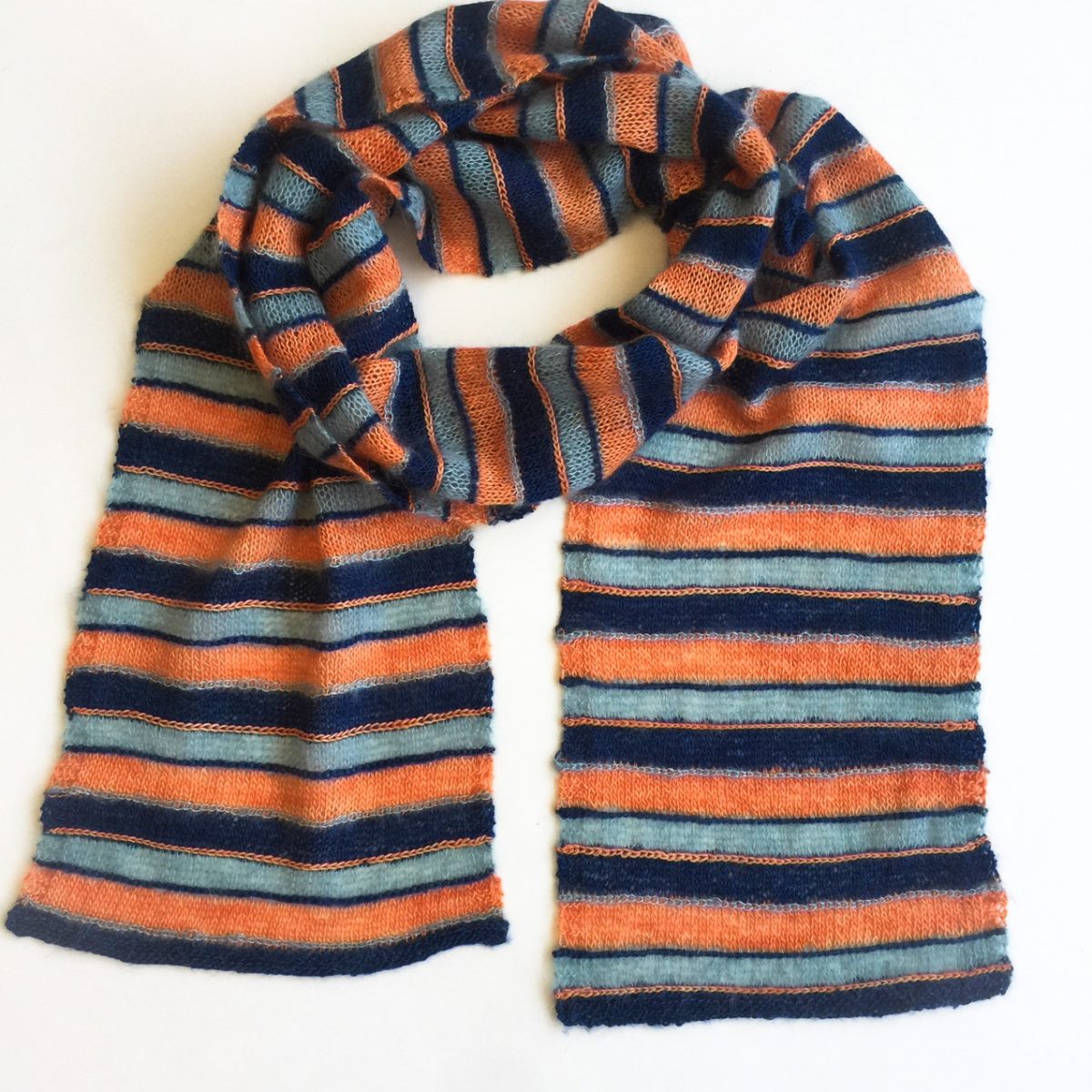 The Stripe Away Scarf is a great knit project – nice and easy with just a little bit of detail. It's straightforward to scale it up to a shawl or wrap. Knit it wider and/or longer by adding extra yarn, or introducing a 4th or 5th colour to stretch your yarn further.  And the colour possibilities are endless. Because the colours repeat you can really mix almost anything – the repetition settles the eye and creates harmony whatever your colour combination.
MATERIALS:
2 x 50g balls Cowgirlblues Merino Lace Single, one each in Indigo (Colour A) and Carrot Juice (Colour B)
2 x 25g ball Cowgirlblues Kidsilk in Celadon (Colour C)
3.5mm knitting needles
SIZE:
Length ~210cm
Width ~24cm
GAUGE:
Work your swatch in the pattern
~26 stitches and 28 rows = 10cm x 10cm
ABBREVIATIONS:
Garter stitch: knit all rows
Stocking stitch: knit one row, purl one row
K: knit
P: purl
Sl: slip the stitch as if to knit
St: stitch
Tbl: through back of loop
NOTE:
When changing colours I found cutting the yarns easier than trying to carry them up the side.
But it does leave A LOT of yarn ends.
You might want to try the "Russian Join" technique, see my video tutorial on youtube:
https://www.youtube.com/channel/UCpEhr2-jzWkLzBruun52k1Q?app=desktop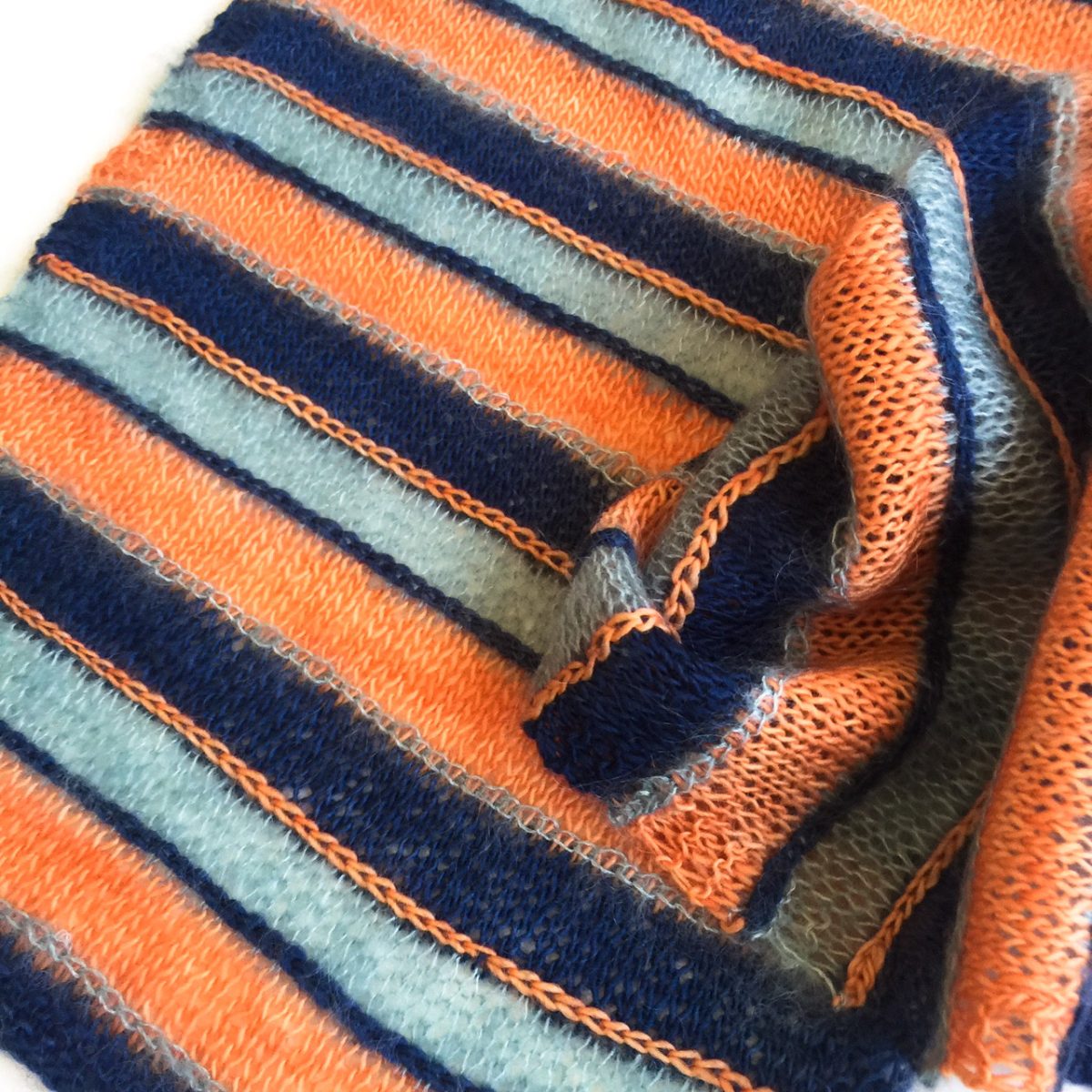 KNITTING INSTRUCTIONS
In Colour A Cast on 65 stitches
Knit 6 rows in garter stitch and on every row slip the first stitch as if to knit, and knit the last stitch through the back of the loop (tbl) as it gives a nice smooth edge.
R7: Sl1, Change to Colour B and cast off every stitch to the last one, turn your work
R8: Change to Colour C and work back along the cast off edge and pick up the stitches again
The rest of the scarf is worked in stocking stitch until the final 6 rows of garter stitch.
On every row:
Sl1, K3, work to last 4 st, K3, K1tbl
Still in Colour C work 4 rows in stocking stitch
Change to Colour A and work a cast off row, these are always worked with the right side facing you
Switch to B and pick up the stitches, always pick up from the wrong side (purl side), then work 6 rows in stocking stitch
Use Colour C and cast off
Change to A and pick up the row then work 6 rows in stocking stitch
Switch to B and cast off
Change to C, pick up the row then work 4 rows in stocking stitch and by now you should see the pattern
Alternate colours A, B, C
Every second colour is a cast off row
Each time you use the Kidsilk for stocking stitch you only work 4 rows
When you use the Indigo and Carrot Juice for stocking stitch you work 6 rows
Keep rotating through the colours: A, B, C, A, B, C
When you lace yarns are almost finished and you scarf is approximately 2m long work the last Indigo repeat in Garter Stitch.
Cast off.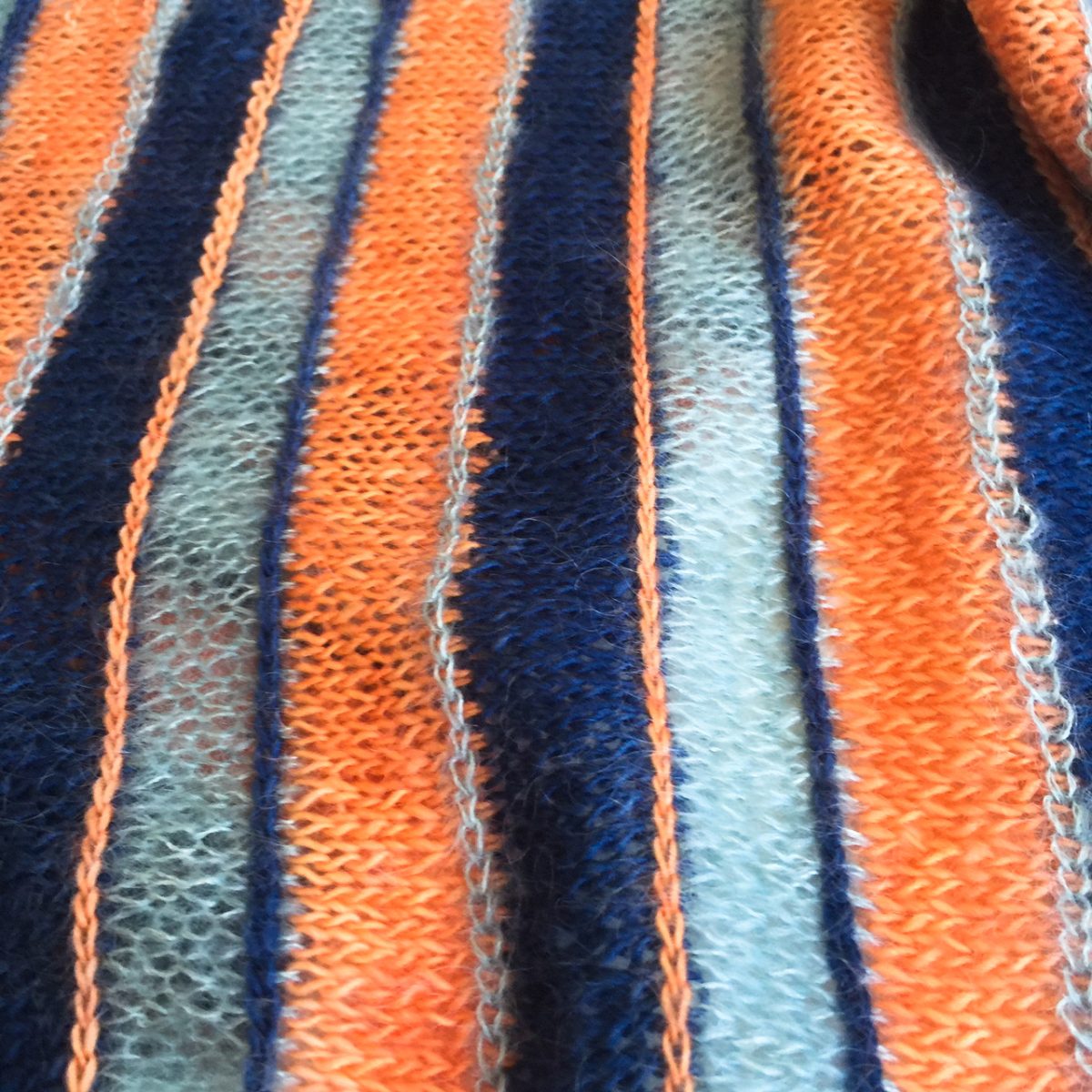 FINISH:
Cut the yarn and draw through the remaining stitch.
Weave in your ends if needed, handwash gently and dry flat, shaping as required.
Shop our yarns now … and Happy knitting!