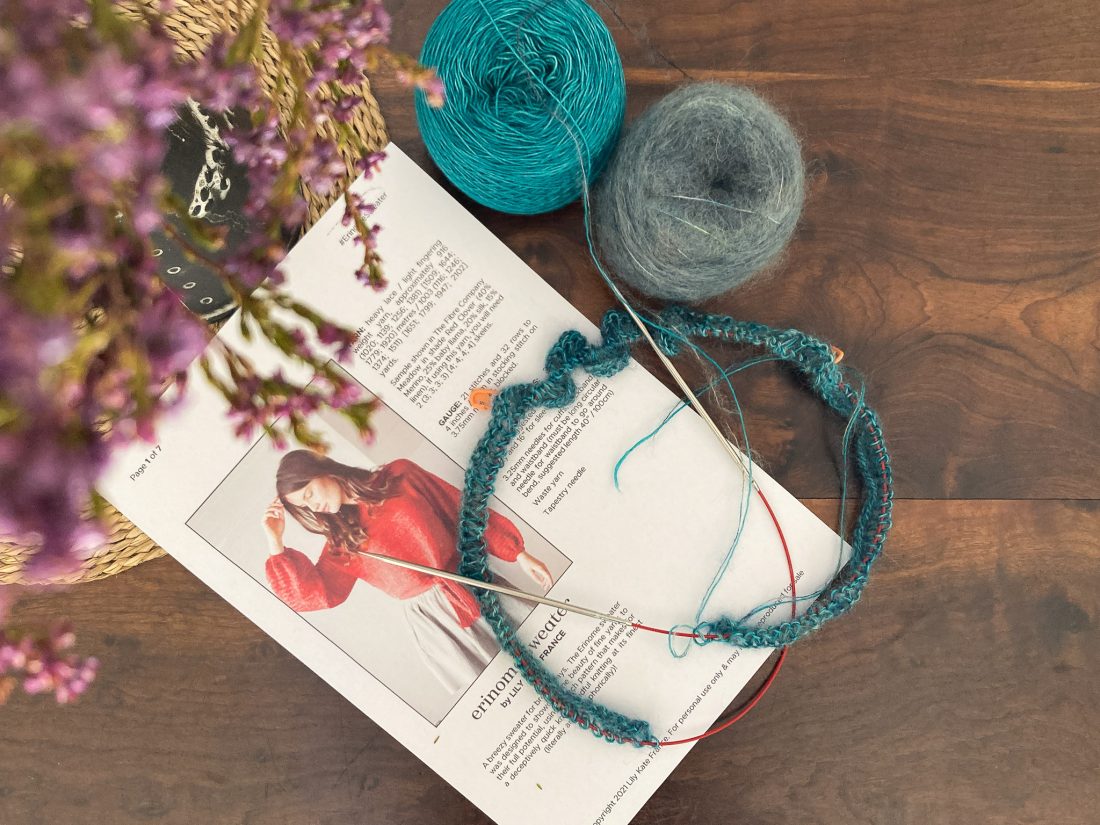 Starting a Sweater
Starting a new knitting project doesn't have to be intimidating. I get a little nervous when it's a big project, like starting a sweater. Maybe I'm a commitment-phobe! Several previous projects haven't fit and I don't want to be disappointed again. If this has happened to you then here are a few steps you can take to maximise your chances of success.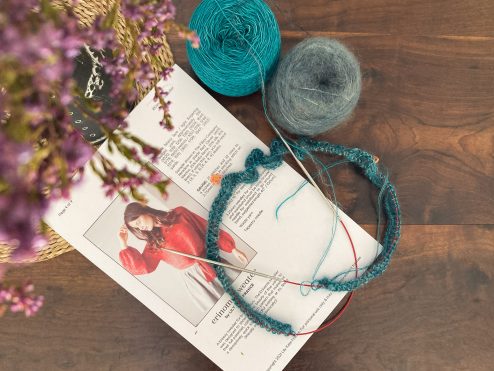 1. Choose your yarn
When starting a sweater project the yarn choice is important. And you don't have to knit with the same yarn the designer used. My starting point is always the meterage of the recommended yarn. Erinome calls for a heavy lace/light fingering weight, and the recommended yarn meterage is ~500m/545y per 100g. Our Merino Single Lace is a little lighter than this at 600m/660y per 100g. But since I'm knitting lace and Kidsilk held together this should be a similar weight. If my gauge is correct and I'm happy with the drape of the swatch I'm good to go.
Of course there is colour to think about also, and this is very much a personal preference. I knew I wanted to use a Kidsilk Multicolour and chose 9 to 5. And I LOVE the watercolour effect of marling a solid and a multicolour together. So I swatched with various Single Lace solid colours to go with it. I chose Camps Bay because I had the lace yarn from a previous project I decided not to knit.  Although looking at the swatches I would have loved the Sage and 9 to 5 combination also. They are all beautiful!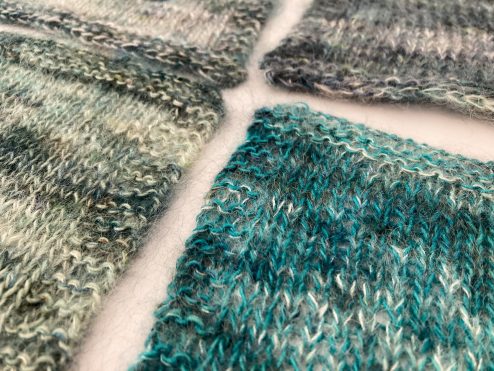 2. Get the right gauge
Gauge or tension is typically measured over a 10x10cm or 4×4″ swatch at the recommended needle size, to check that you have the same number of stitches and rows as the pattern designer. If you do, then your project's finished measurements should be the same as the pattern, assuming you followed the instructions! But it might take more than one swatch to get it right. I'm knitting Lily Kate France's Erinome Sweater which calls for a gauge of 21 stitches and 32 rows using 3.75mm needles. Since I always knit with our yarn range it's helpful to have swatch references using different needle sizes. And since I didn't already have these in my collection I worked up a few options.
As you can see my stitch count is correct using a 3.25mm needle. And this makes sense to my tension is typically a little on the loose side. The row count is less important than the stitches as I can always add a extra rows if the length isn't right.

3. Measure for size
Getting the sweater fit right is always my biggest concern. Especially since I knitted two sweaters last year that didn't fit well. So to get better at it I took Kim McBrien Evans' Solo Measurements class at VKL in April. It was extremely informative and really worthwhile to take my own measurements and focus on fit for 2 hours.
Did you know you have TWO bust measurements?  Upper Torso (or Upper Bust) is right up into your armpits. And Full Bust is around the widest part of your bust.
Kim recommends choosing the pattern size that fits your Upper Torso measurement so that you get a good fit on the shoulders, then adding additional bust shaping if needed. This is a dropped shoulder pattern so that's less of an issue here. Lily Kate and I have different body shapes, so it's not going to fit me the same as it fits her. But I like the waist ties and I'm going to follow her recommendation on bust ease. Since it's a top down knit if it's too big in the bust I can always shape it in.
Kim is teaching several classes at VKL in May if you want to get better fitting knits. You might see me there!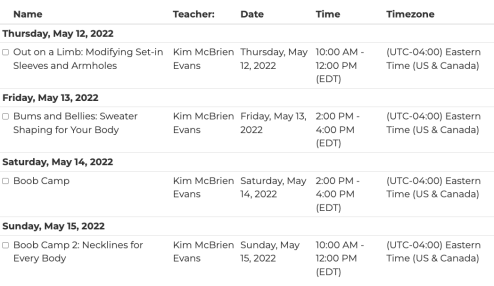 Happy knitting!