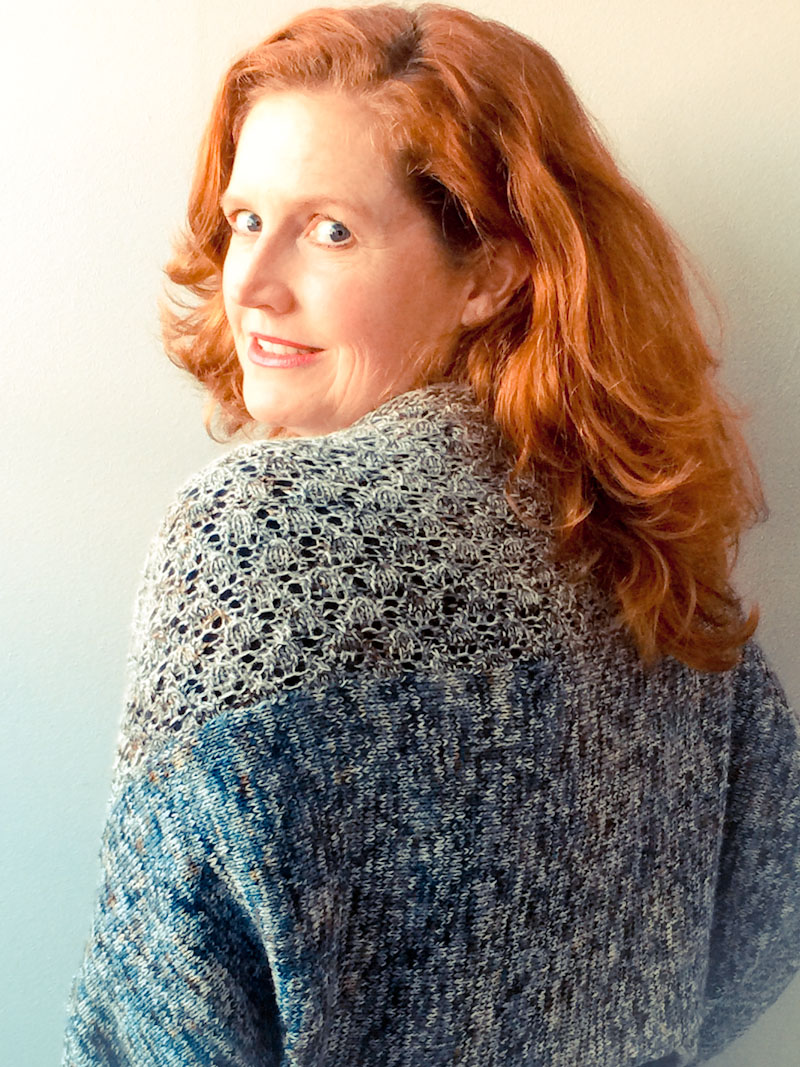 Knit project inspiration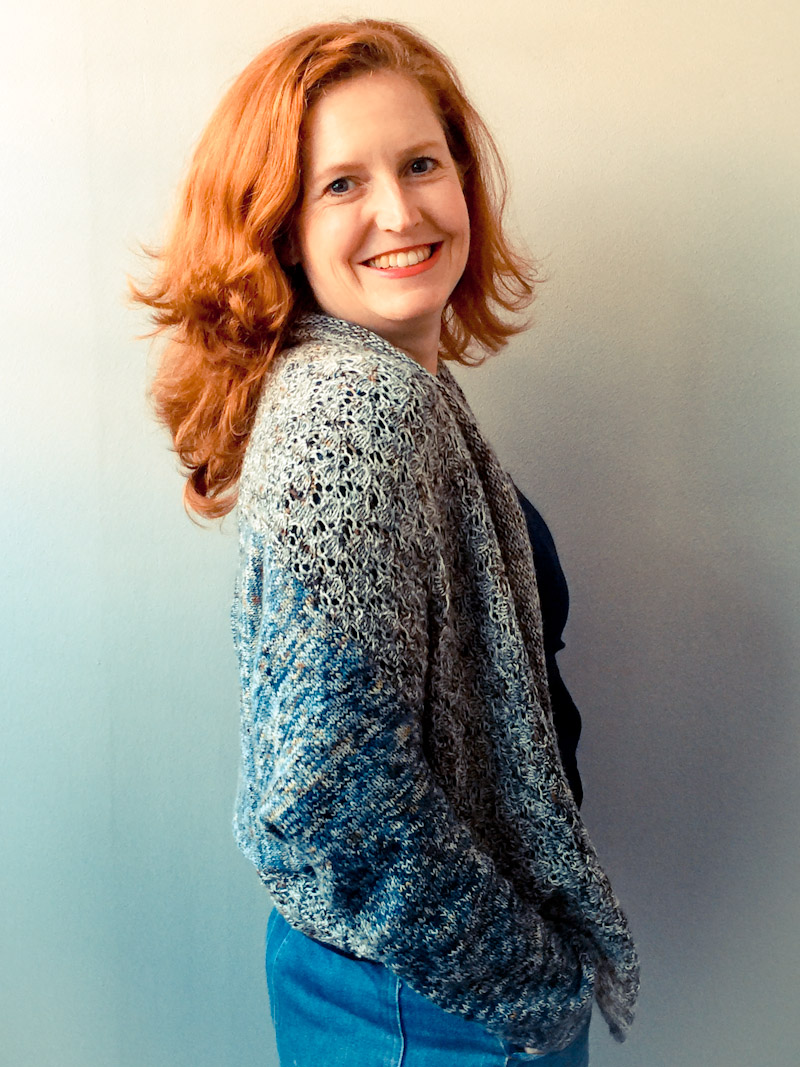 This week's knit project inspiration is my favourite hand knit jersey pattern!  I love Isabell Kraemer's Reagan knitting pattern.  It's a beautiful versatile piece that works in spring, summer, autumn and winter.  And we've knit it up in various different yarn weights.  Having done a bunch of dyeing experiments recently with colour fade sets  I wanted to knit something up using one of the Lace sets.  So I pulled out my favourite pattern.  I persuaded my mum to knit it for me, and picked a yarn colour set.  I chose "Just Another Manic Monday"  The name was coincidental, although I feel like I've been having full weeks of manic mondays of late.
Knitting this pattern with a colour set was fairly straightforward. You need to hold two strands together in order to get the pattern gauge with our Merino Lace yarn. This is ideal for working with several colours.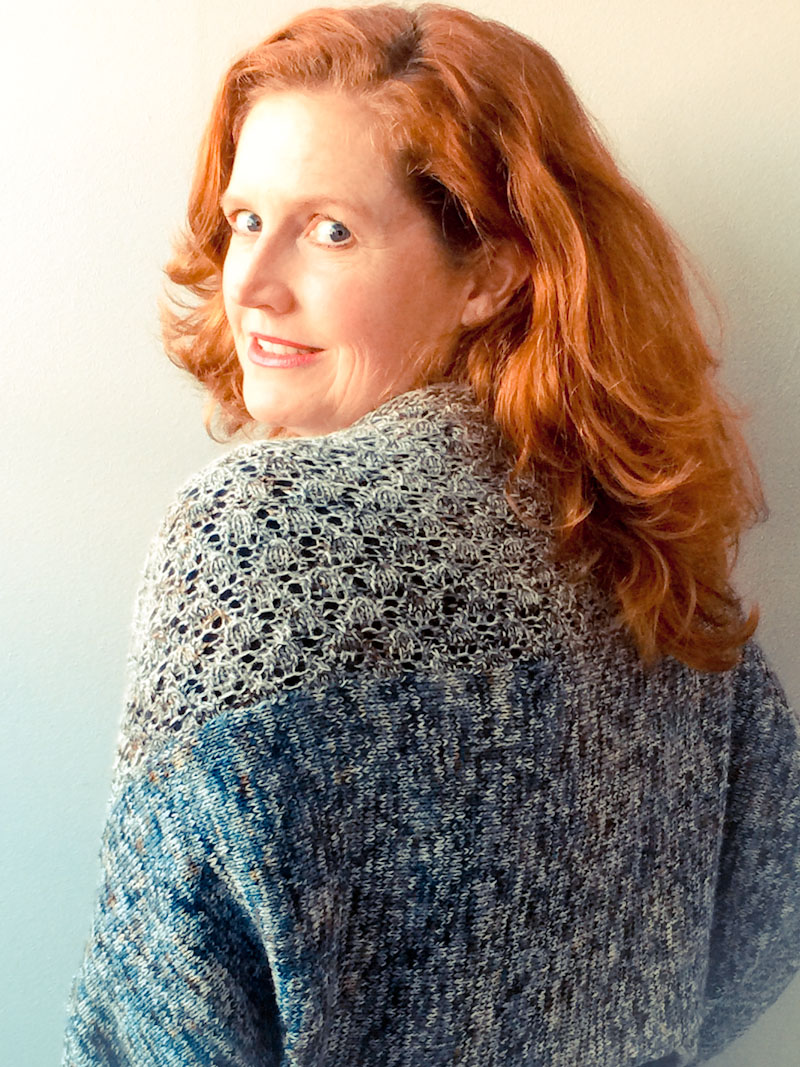 This pattern starts with knitting the back panel section.  I chose the first and last skeins in the set to combine for that.  And used the two middle skeins for the lace section.  I wasn't sure how the meterage would stretch. So I added one Merino Lace Single 50g ball in Silver Fox.  I thought it would combine nicely with these colours if I needed some extra yarn, which I did.  This worked well to knit the large size of the pattern.
My mum did all the hard knitting.  She started with the back section, then picked up the stitches to knit the lace.  I got to do the finishing, starting with the front or colour edge.  When I started this last section I split what was left of the two multi colours and used the darker one with the Silver Fox.  When that was finished I introduced the lighter one, still with the Silver Fox.  And I decided to put an i-cord edging all around and on the cuffs.  It takes a lot longer than a regular cast off, but I like the result.
I took the yarn that was left from the back panel to finish the sleeves.  I split each colour into two balls. This way there would be the same amount of yarn for each sleeve. And they would look similar in colour. In the end I had just enough for the length I wanted.  But there was enough left on the ball of Silver Fox that I'd have had some to finish if I'd needed it.
I am so happy with the result and I highly recommend it as a medium weight sweater.  I've worn it almost every day this week.  And I love how the different colours have worked out in the finished piece.