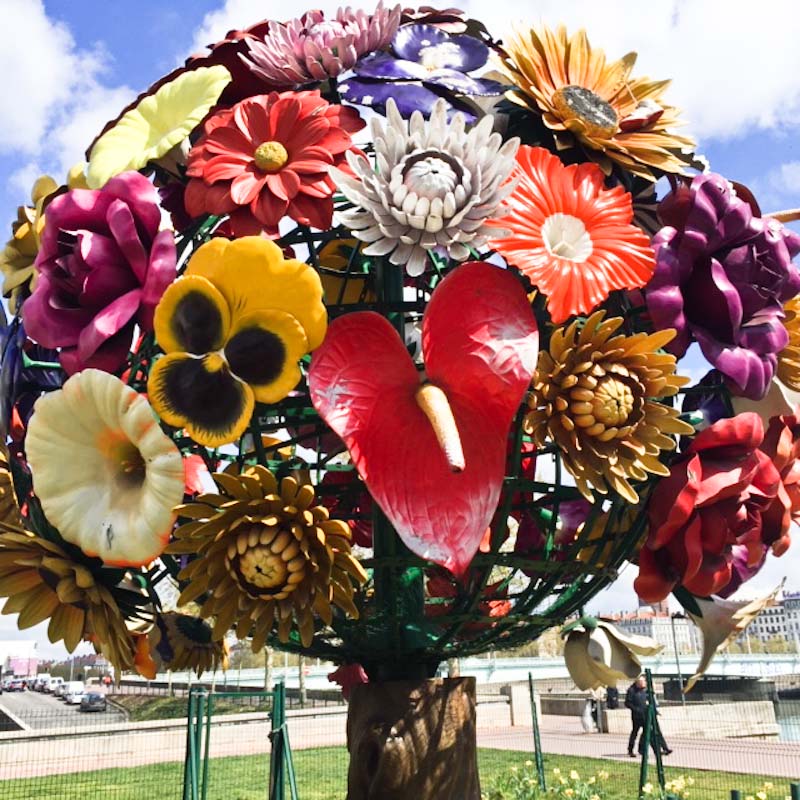 From Lyon with Love
Six weeks ago in the first week of April, I visited Lyon, France for the first time.  It was a short stop after exhibiting at H&H in Cologne.  And the primary reason for my trip was to participate in the first Knit.Eat festival – two VERY compelling reasons to go anywhere!  Lyon is the third largest city in France, and the second biggest urban area, after Paris.  But it felt much smaller by comparison and very manageable to navigate on foot and using their excellent public transport.  I took pictures where I could so here is a little taste of my experiences, from Lyon with love!
There were signs of spring everywhere, flowers of course, and fresh berries too.  Lyon is also considered to be one of the gastronomic centres of the world.  When I discovered this I paid special attention to my meals, not a hardship of course.  And I ate some phenomenal dishes in excellent and affordable restaurants.  I even snuck in a glass of wine at lunchtime!  French boulangeries (bakeries) and patisseries (cake shops) are sensational everywhere.  But in Lyon they were extra special and I made time for a few sweet treats.
The city of Lyon is situated at the confluence of the Rhone and Saone Rivers. The rivers dominate the city's geography.  And there is an urban renewal happening on the island in the middle of the rivers, an area called "La Confluence".  The Knit.Eat festival was happening on the island.  So after setting up on Friday afternoon I had a chance to walk the streets.
The modern architecture is fantastic.  And there is a real river living vibe. The wide promenade on the riverside has plenty of space for houseboats which are always intriguing.  And of course it's great for dog walking.  I was fascinated by Lyon's "scooter share" system, although not brave enough to try it.  But being app-based you can drop a scooter anywhere, definitely a thumbs up for convenience.
It's not always easy to prioritise blog posts over more urgent and pressing production issues, customer needs, sales enquiries, and all the other day-to-day work of running a business.  But it's such a pleasure to reflect back on adventures and experiences.  Especially ones like this.  So thank you for being my excuse to do so.  This one really does come from Lyon with love!