October is Breast Cancer awareness month
Since it's already October 19th you are probably well aware that it's breast cancer awareness month. It's a cause that is close to my heart (both literally and figuratively). My mother is a survivor, and this time last year I had my first experience with a breast lump scare. I was fortunate, however the experience was quite scary and post-surgery healing surprisingly long and slow.
Julia also has first-hand experience with breast cancer. So the two of us decided the best way to acknowledge this was with a bit of knitting.
The "pink ribbon" is well recognised, and here we have two options for you – a quick-to-knit pin/brooch using your yarn leftovers, or a beautiful beanie.
As you can see I have plenty of hair to hide under mine, my mother was very envious when she was losing hers and we went wig shopping together. She lives in Durban so wearing a beanie wasn't really an option as it's way too hot and humid, even in winter.
I'm a little ashamed to admit I didn't show chemo-solidarity by shaving my head. Fortunately she hasn't held it against me!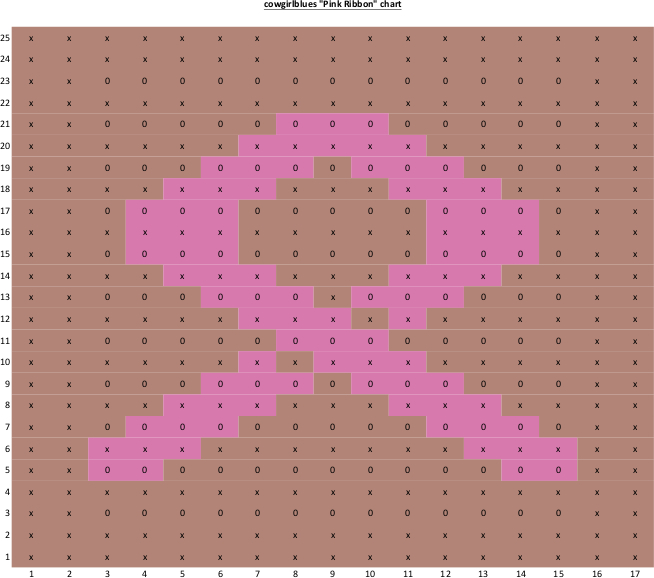 Knit a brooch
We have knitted in the Fair Isle intarsia method using 2 colours. Simply knit with the colour indicated, and leave the other yarn hanging at the back of your work, picking it up when needed. If you knit more than 3 stitches in one colour, it is better to twist the yarns around each other to avoid long loops that will catch and look untidy.
Ours has a garter stitch frame, and the pink ribbon is knitted in stocking stitch.
cowgirlblues Merino Sock in two contrasting colours, A (background) and B (pink)
3mm needles
Cast on 17 stitches in A
Row 1&2: Knit
Row 3: Knit 2, Purl 13, Knit 2
Row 4: Knit
Join in B
Row 5-17: Knit 2A, (Follow chart in stocking stitch, using A and B as indicated), Knit 2A
[Eg. Row 5: K2A, P2B, P9A, P2B, K2A]
Row 18-19: Knit 2 rows garter stitch in A
Cast off and block.
Stitch onto a safety pin so that you can wear it as a brooch
Knit a beanie
2 x 50g cowgirlblues Merino DK yarn in contrasting colours, A(background) and B (pink)
1 x 4.5mm circular needles
Tension: 20stitches and 25 rows to 10x10cm in stocking stitch
Cast on 80 stitches in A
Join stitches to form a circle
Work in K2 P2 rib for 6cm or (12cm if you want to fold it over)
Change to stocking stitch and increase 4 stitches over the next row by increasing 1 stitch every 20th stitch (84 stitches)
Continue in stocking stitch for another 8cm following the chart repeat 6 times around the width of the beanie
(Each ribbon repeat is 13 stitches with one background stitch between = 80st)
Begin the decrease for the crown, knitting every other row, and ending with a knit row:
Round 1: K10 K2tog (77 stitches)
Round 3: K9 K2tog (70 stitches)
Round 5: K8 K2tog (63 stitches)
Round 7: K7 K2tog (56 stitches)
Round 9: K6 K2tog (49 stitches)
Thread a needle through the stitches and gather tightly to form the crown. Sew away threads.
Notes:
This is the basic pattern as Julia knitted it.
Measurements: ~20cm wide and ~19cm long
Weight: 54g
Bridget wanted it longer (she has a bigger head!) and decided to keep to one ball of the background colour and use more of the pink to get extra length.
Measurements: ~20cm wide and ~23cm long
Weight: ~64g
The possibilities are endless!