Martina Behm and StrickMich!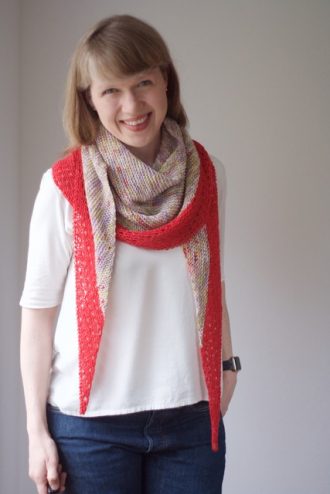 Last year we worked on an exciting and fun collaboration with Martina Behm of StrickMich! Martina is a German knitwear designer. She also happens to have a Masters degree in economics from Cambridge University, just FYI. Martina was lovely to work with, and very experienced. She has been designing knitting patterns for quite some time. The first pattern I could find on Ravelry was posted in November 2009. And she has 84 patterns listed on her profile there. StrickMich! is her yarn club. Knitters subscribe for a year and receive 4 mystery yarn/pattern combinations at intervals during the year. Each project has custom-dyed yarn created by different dyers. Last year we were extremely fortunate to be one of the dyers that she worked with. It was a wonderful experience.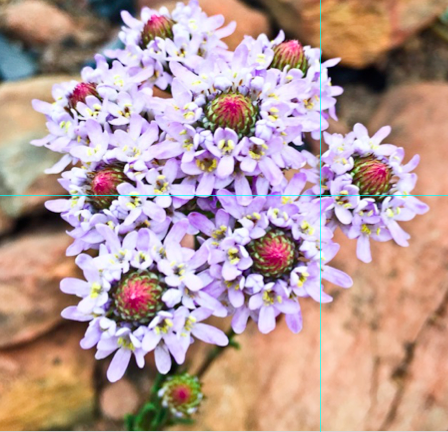 Creating a custom colourway for a designer is intense. It began with sending photos in various colour palettes. I take lots of pictures whilst walking on the mountains around Cape Town. Martina chose a shortlist of images. I dyed up a skein of yarn to represent each picture. And we sent the skeins to Germany for her to play with. From these she picked one colourway, then designed her pattern to go with the yarn.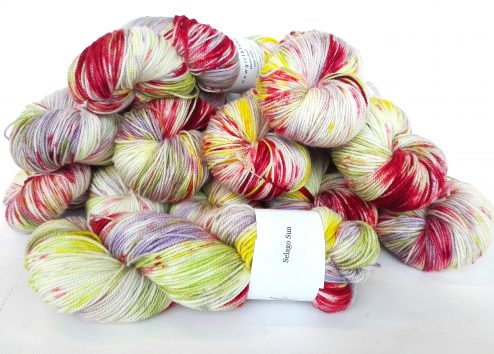 Once we had the colour we had to dye the wool. This was the biggest order we had ever shipped – 1200 skeins in a custom colour way with 1200 matching balls of Lipstick, all in Merino Twist (the name of our Merino Sock has changed). A total of 180kg of wool went off to Germany in a single shipment, on time! I was so proud of the team that we got it done so smoothly.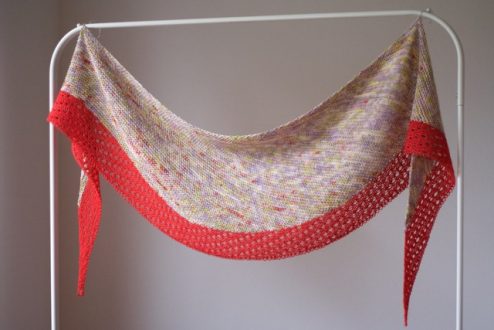 Dyeing the wool was a big part of the process. But there was more! I had planned to be in Europe in September, so I arranged to join Martina and her yarn club at their "cast on" event in the north of Germany. Getting there was an adventure, but I made it. I was the surprise visitor for the pattern and yarn reveal. What an incredible experience to be part of. There were about 80 knitters at the event and all so enthusiastic about the project, the yarn, and knitting in general. You can watch a youtube video of Martina's "reveal" including an interview with me – it's bilingual, don't be afraid when you listen to the first few seconds!

The process didn't end there. My mum has been knitting in some of our early test skeins, as you can see from these gorgeous project pictures.
And at our Open Studio Saturday on Feb 2nd we had a German visitor, Monika, whom I had met at the StrickMich cast on event. What an amazing international exchange. Thanks so much Martina!!! I hope we will be able to work with her again on another StrickMich project.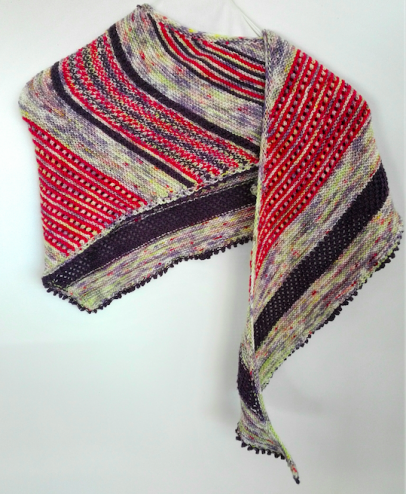 Unfortunately I jumped the gun a little bit with this post, ooops! And the yarn will only be available in mid-March when Martina's pattern is released. I will keep you updated and we will have skeins available for purchase then, along with Martina's pattern kit.