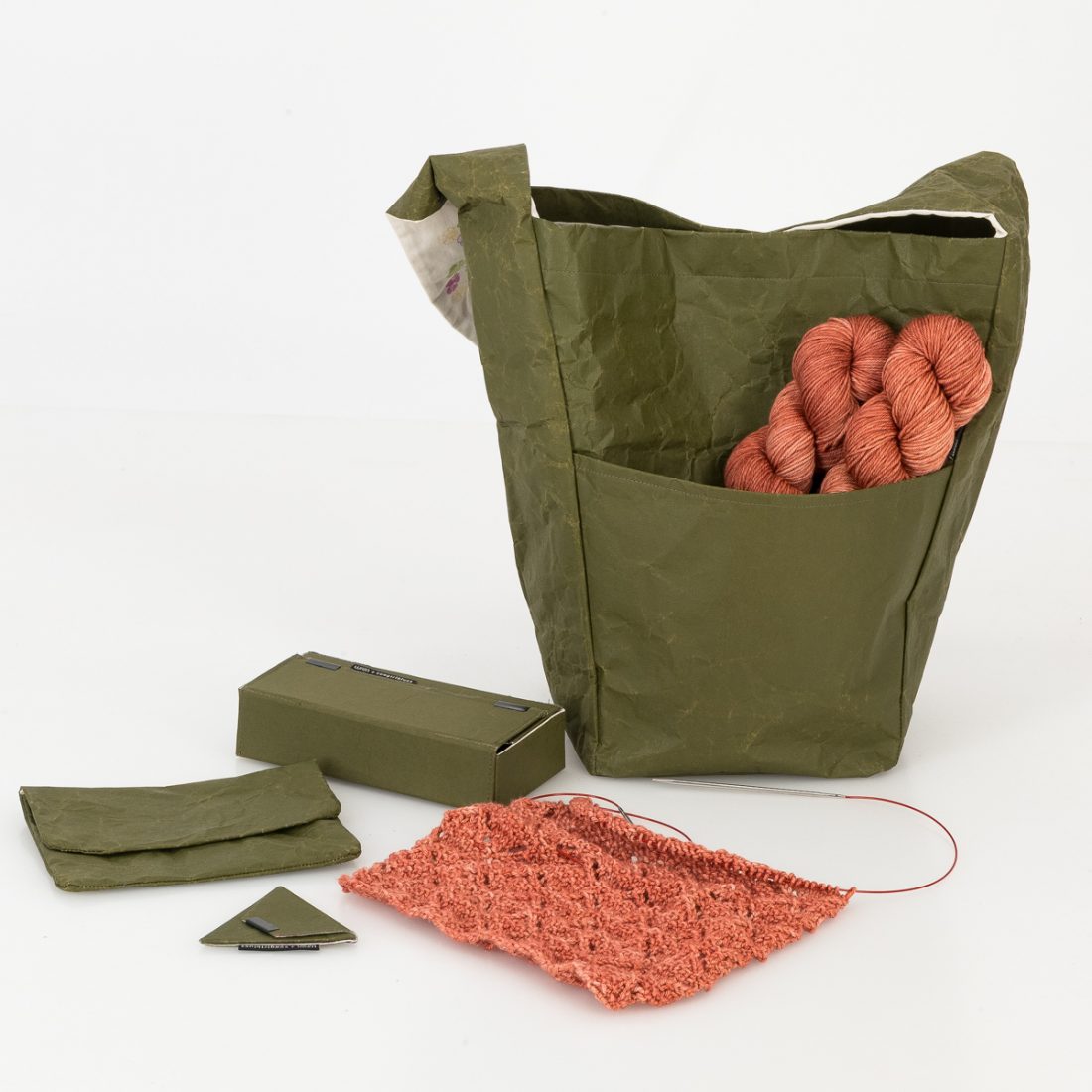 The Paper Bag Collection
The Paper Bag Collection was created in collaboration with Wendren from The Wren Design. We met in about 2014. But it wasn't until we travelled together to a couple of trade shows that we became friends. And although we talked about it many times, our product collaboration only came together in 2021. It can take a long time to develop a new product. For example this collection took us six months. But it has been well worth it as we are both really happy with the result.
Where did we start?
The Wren Design makes their products from recycled and reclaimed cement bag paper. It's super strong. And being paper, recycled, and reclaimed it's a material with excellent environmental credentials. We started by playing around to generate some ideas for pieces in the collection. The Pocket Triangle was inspired by origami folding and I realised we could make it the perfect size for stitch markers and small items. The Toolbox took shape over several iterations. I wanted my crafting tools in a box so I could see them easily instead of having to scratch around in a zip pouch. While I was testing one of our samples I noticed my darning needle sticking to the magnet. This was really useful as it made it easy to find. So we included more magnets. And we worked out the folds so it would pack flat and be easy to ship.
For the Needle Pouch we adapted one of Wendren's existing bags to suit knitting needles. And last but not least I decided we needed a Project Bag to store everything. So one piece at a time the collection took shape. And I got to play with all of them and see how they worked.
Making it pretty
Once we had the shapes we looked at how to make the inside more beautiful. I walk on the mountain often and had been doodling flowers. Wendren took my doodles and turned them into fabric print ideas. The lining fabric isn't readily printable except in HUGE quantities. So we converted the drawings to rubber stamps. And using Wendren's prints we played around with ink colours and stamp combinations to create a pattern for the lining. Finally we put the fabric together with a selection of paper colours. And we were ready to go.
Our Paper Bag Collection ticks a lot of boxes
The Wren Design, our paper bag partner, is B-Corporation certified, meeting the highest standards of social and environmental impact. The bag paper is mostly reclaimed or recycled from cement bag production. Both Cowgirlblues and The Wren Design are sustainability-minded companies, started and owned by women, and employing women. A lot of the making process involves hand work, meaning job creation. And each piece is made right here in Cape Town, by real live people.