Stylish Stripes Beanie
I've been absent for a month or two, due to work and work-travel, but it doesn't mean that all sorts of interesting things haven't been happening in the background. Over the next few days and weeks lots of them will be making their way to the blog, first of which is this gorgeous beanie in stylish stripes.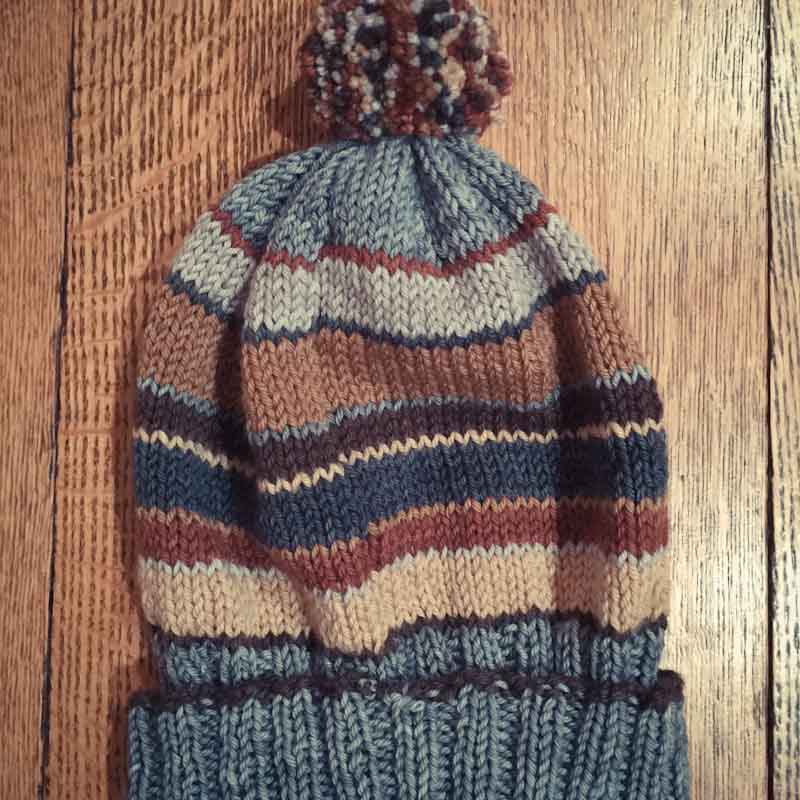 Sizing:
One size, ~32cm wide (full stretch) and 26cm long (excludes 4cm turnup)
Materials:
50g cowgirlblues Merino DK Main Colour A (Silver Fox)
10g per colour of the following six colours:
B – Coffee Bean
C – Caramel
D – Sable
E – Marsala
F – Rust
G – Charcoal
1 x 4.5mm circular needle
1 x stitch marker to mark the end of round
Gauge:
19 stitches and 24 rows = 10cm in stocking stitch
Instructions:
Cast on 80 stitches in B
In A K2 P2 rib for 12cm
Continue in stocking stitch in the following colour sequence for approximately another 14cm
(Stitch marker may come in handy here)
Colour Sequence:
K 1 round in B
K 5 rounds in C
K 1 round in D
K 3 rounds in E
K 1 round in F
K 5 rounds in G
K 1 round in C
K 3 rounds in B
K 1 round in A
K 7 rounds in F
K 1 round in G
K 5 rounds in D
K 1 round in E
Change to A and decrease for crown as follows:
Round 1: Knit 8 K2tog to end
Round 2: Knit
Round 3: Knit 7 K2tog
Round 4: Knit
Round 5: Knit 6 K2tog
Round 6: Knit
Round 7: Knit 5 K2tog
Round 8: Knit
Round 9: Knit 4 K2tog
Round 10: Knit
Finishing:
Thread a needle through the stitches and gather tightly to form the crown. Sew away threads
Make a pompom of your yarn leftovers to put on the top.