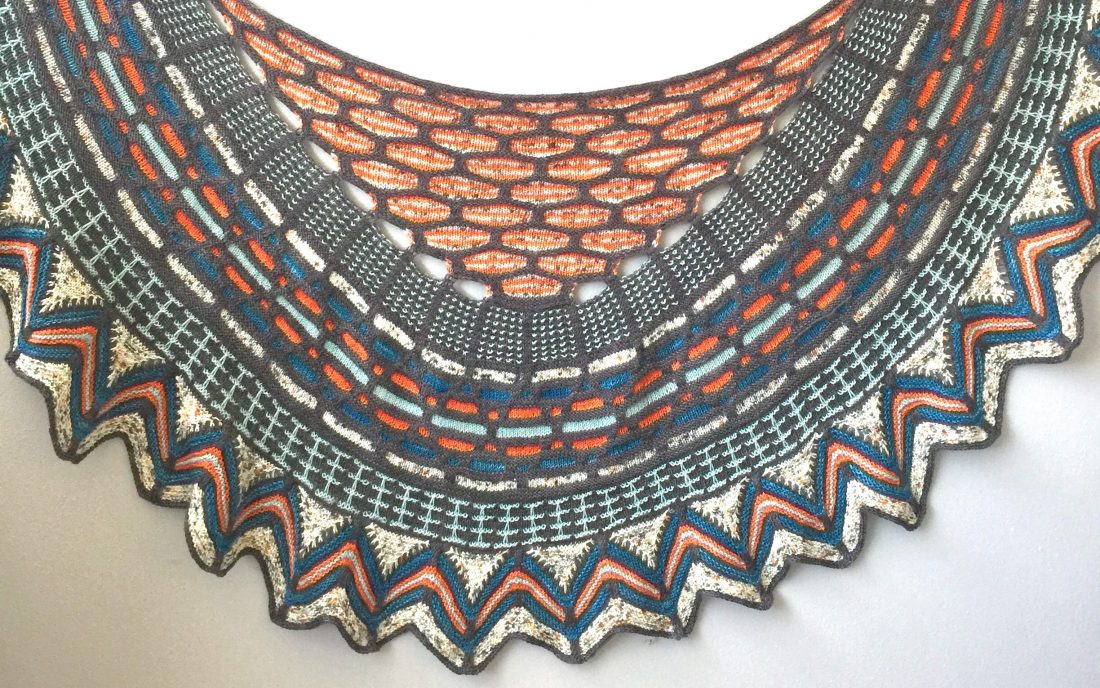 Slipstravaganza Shawl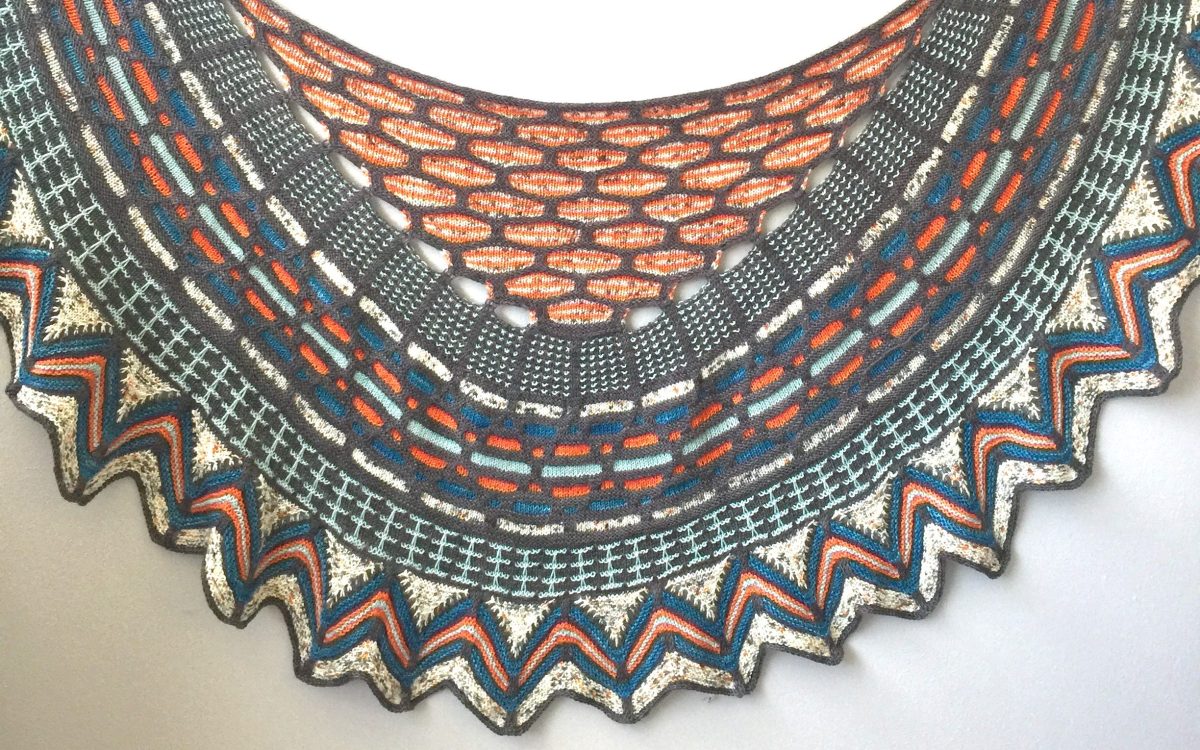 Each year in about September/October Stephen West launches his annual MKAL or Mystery Knit Along. This year it was the Slipstravaganza Shawl. A mystery KAL is exactly that … you don't know what the pattern looks like when you start knitting. Through series of clues over a number of weeks it is revealed. And you knit along, clue by clue. Crazy really, but kind of fun too.
Lindsay from the Camp Yarnsie Facebook group nudged me towards the Slipstravaganza Shawl when she messaged me to make some kits available as the original kits sold out very quickly after they were launched. So I signed up for the pattern, got the pre-launch info and put some kits together for our online shop. Then I decided I should probably knit it as well since I had bought the pattern.
This was early October. I selected one of the kits we had created and took it home. Then the COVID hammer struck. I was in bed for a week feeling too tired and miserable to even knit, which is pretty bad. But by week 2 I was feeling stronger although still in bed, and needing a distraction. So I started playing around with the yarn and clue 1. It didn't work for me at all. I was working with our Merino Lace Single which was the same weight as one of the original kit yarns. But the lace was hard work on the i-cord cast on and after pulling it out about 4 times I almost gave up on the whole project. I thought I'd do a pattern giveaway to our newsletter subscribers and someone else could knit it!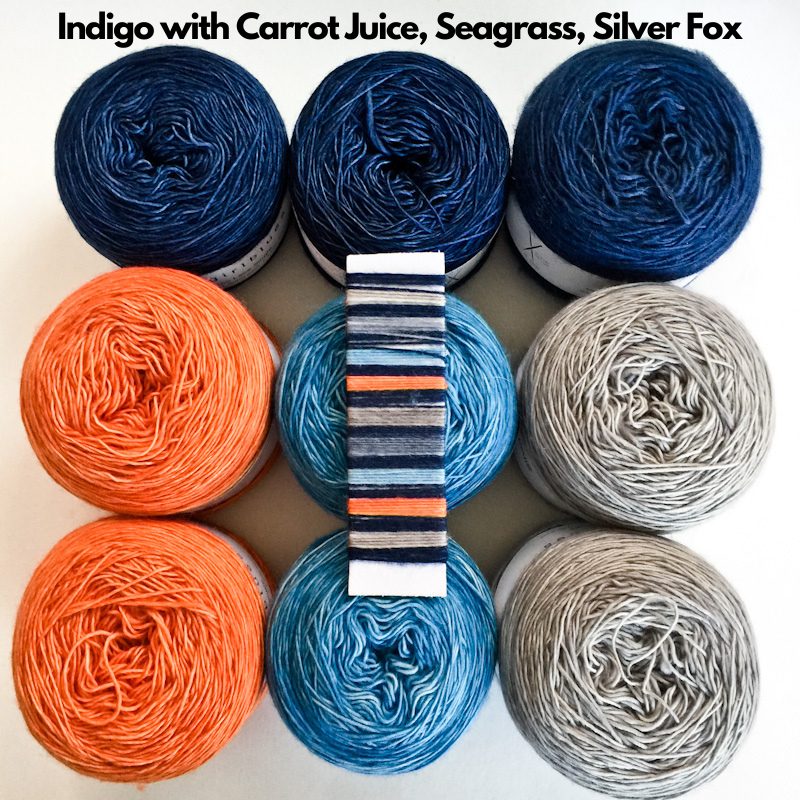 I can't remember what changed. Probably the image stalking on Instagram got me inspired. So I switched my yarn to our Merino Twist and decided to give it a go.
The Merino Twist was much better suited to the pattern and my patience for complicated knits. Having seen some beautiful photos I got stuck in. I usually like to knit while watching or listening to something, and certainly in the beginning this wasn't that kind of pattern. But the detail and concentration grew on me and it became a very meditative experience of counting stitch repeats within the rows. Also, after just a few rows the pattern started to reveal itself which made it a lot easier to follow the knitting instead of the writing. And I found that with each section. It would be tricky at first and then a bit easier as the pattern started to appear.
The clues knit up reasonably quickly in the beginning. The shawl is worked from the centre neck outwards. So in Sections 1 and 2 you don't have that many stitches on your needles, the rows go quickly, and the colours draw you in. And by the time you get to the outer edges you're far too engaged to give up!
Although I had selected my colours to start with I had to make a few palette changes on the fly. I chose Charcoal as my main colour (MC) because I liked the definition of the pattern framework in a solid colour. And I put Under Pressure and Carrot Juice together as the Contrast Colours (CC) for Clue 1. This left me with Guinea Fowl for CC2 … I'm not sure why you would use it third and call it CC2, but that's how it is. When I got to CC2 in the bonus section of Clue 1 I decided the Guinea Fowl didn't give enough contrast against the Charcoal. So I swopped in a ball of Celadon. The tone matches the Guinea Fowl, but it's paler and gave nice stitch and pattern detail with the Charcoal MC.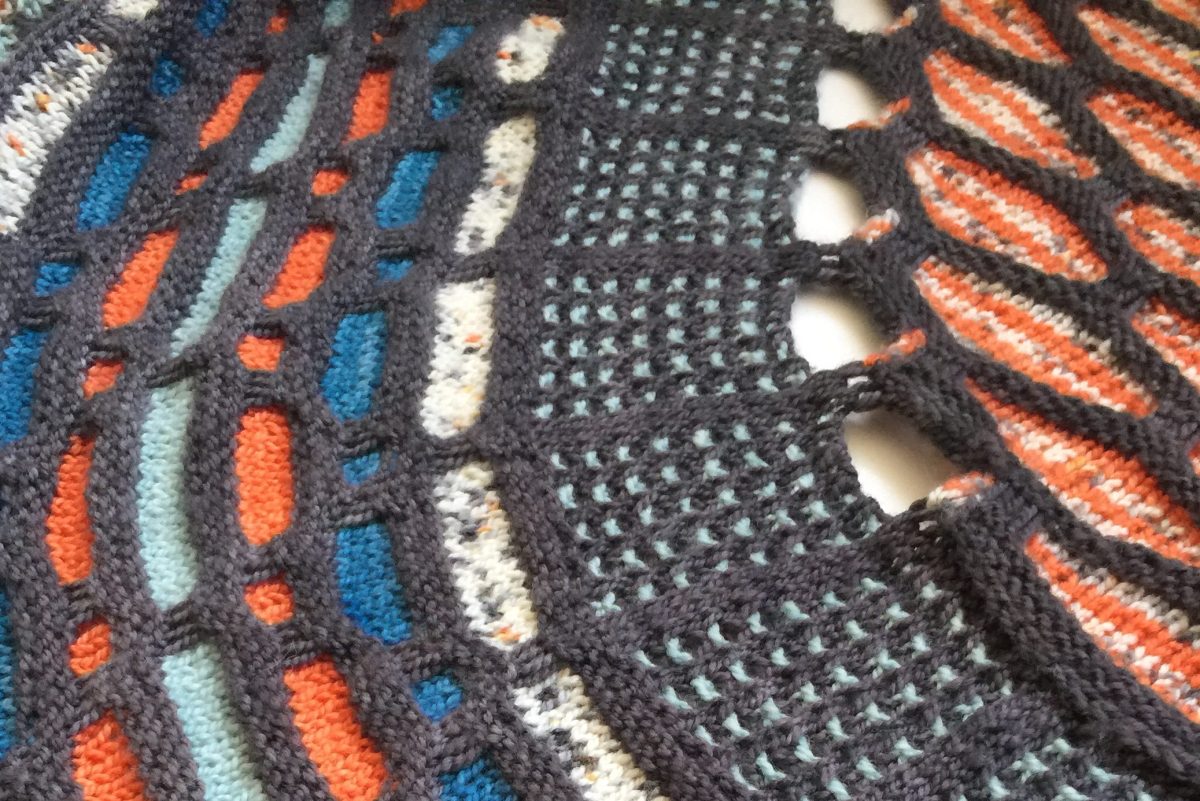 And from there I just kept going. I was a little behind the curve and did a lot of knitting to catch up. So every week I would go hunting for pictures on Instagram to see how each section was knitting up before I got there. I found this very helpful as it gave me a good idea of how to pull the colours together. The pattern is very flexible in that respect. If you search #slipstravaganzaMKAL on Instagram you'll find many colour variations. And when I reached the final chevron section I played with the colours even more to use up my remaining yarn – like the 3 stripe section with Carrot Juice and Celadon. And I really like the effect.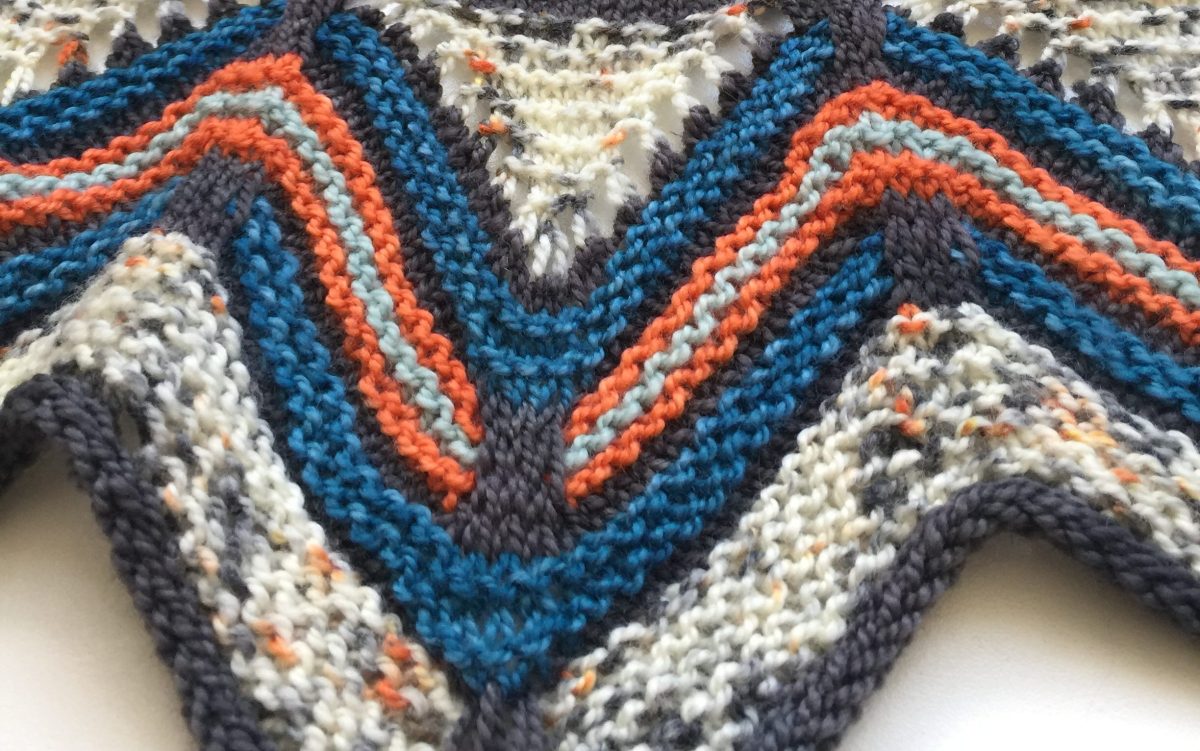 When you hit the chevrons at the end you're working with upwards of 900 stitches. This is a VERY long row to knit. And I was ready to finish. So I knitted fewer chevron rows than the pattern called for. It's a generously sized shawl and I'm completely delighted with the result. This was my first Stephen West knit. His designs are gorgeous, intricate and innovative. But they've always seemed too complicated for the headspace I've had available, until now. This won't be my last, that's for sure!
If you're feeling inspired too you can find the pattern on Ravelry: Slipstravaganza Pattern
We have kits in our online shop, or create your own colour combination: Slipstravaganza knit kits