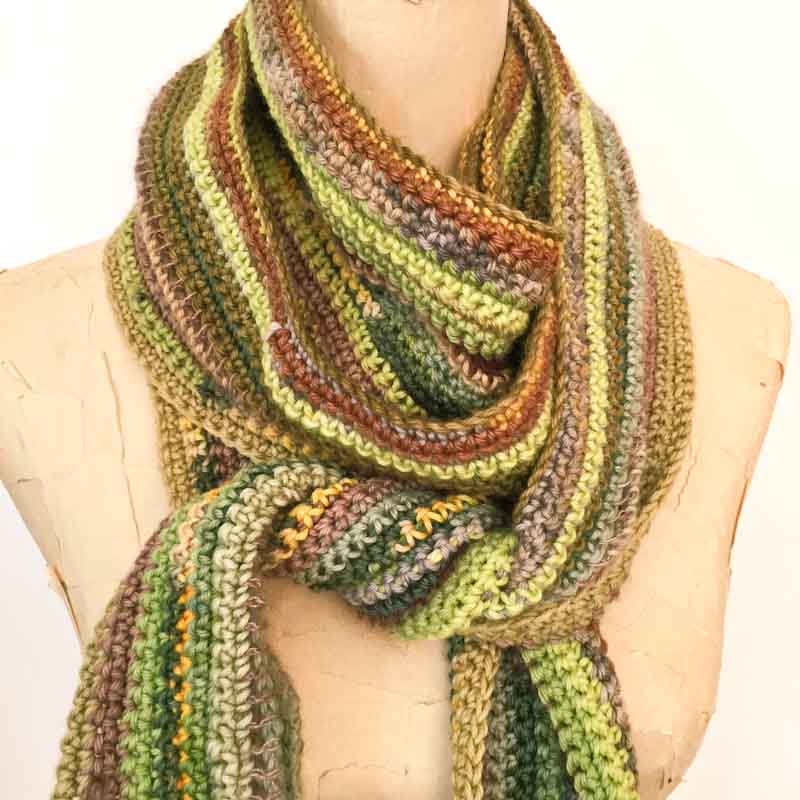 Scrap Yarn Scarf to crochet this winter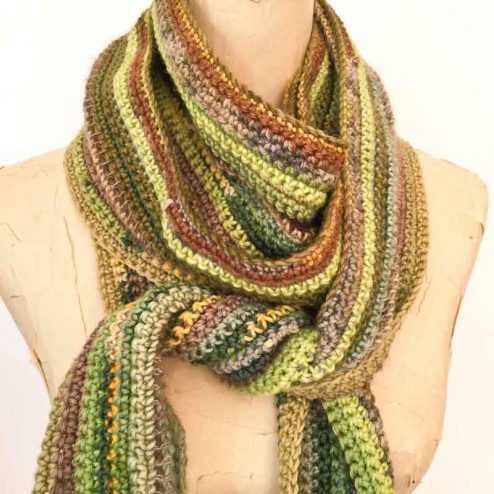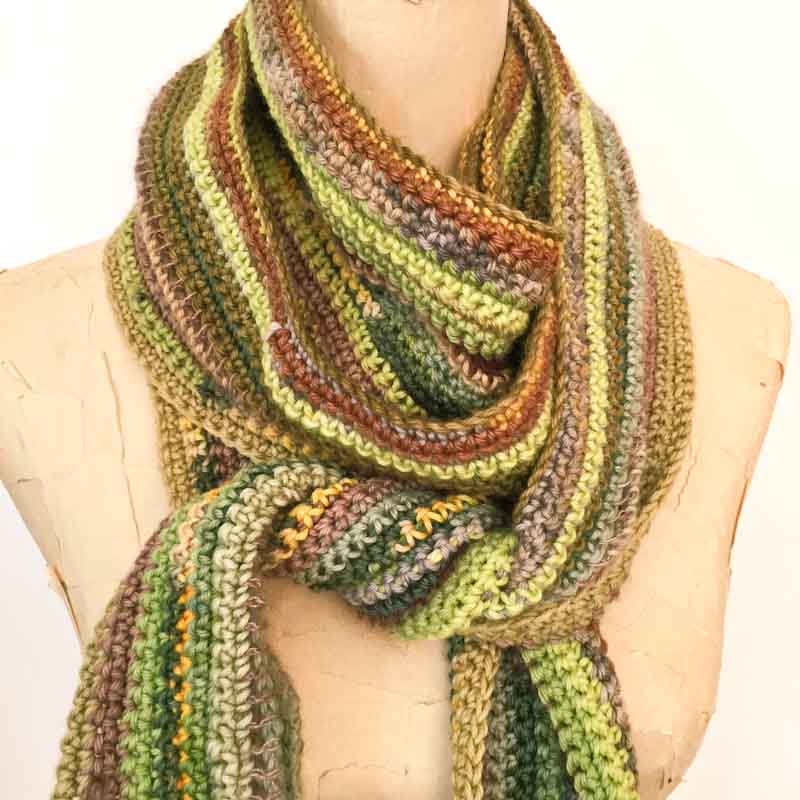 Am I the only person who finds it almost impossible to throw out little itty bitty leftover scrap balls of yarn? They pile up  in bags and hide in corners and until a clean up is required.  So I consolidate all my scraps into one bag and the whole process starts again.  If you're anything like me and need an idea for how to clear out that yarn scrap bag then this one is for you.
It's a unisex style that you can turn into something more His or more Hers depending on your colour choice and how you finish the ends.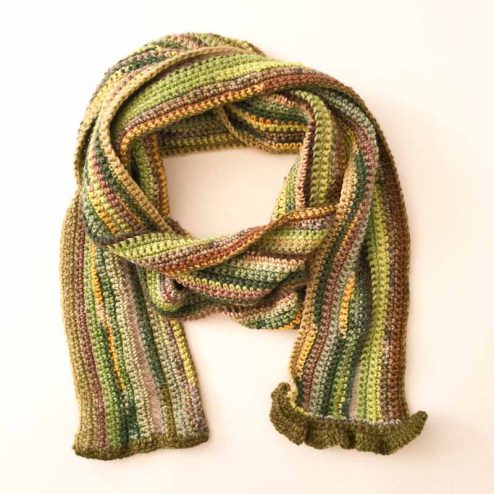 Materials:
Using mostly Merino DK weight yarn my finished scarf weighed 250g
4.5mm crochet hook
Gauge:
15 crochet stitches x ~20 rows = 10x10cm
Size: 
240cm long x 12cm wide without the finishing bits on the ends
This is very much up to you … I went long and skinny.  In truth this is because my starting idea was for a blanket, but the dimensions ended up all wrong.  So instead of pulling it out, I had done a few rows by the time I realised, I decided to turn it into a skinny scarf instead.
Instructions:
I sorted my leftovers into colour groups quite broadly and recommend you do the same if you want a colour themed piece.  Otherwise just randomly mix in the bits as you go along.  I wasn't too fussed about texture/yarn weight, although most of mine turned out to be Merino DK, with one little stripe of Kidsilk thrown into the mix.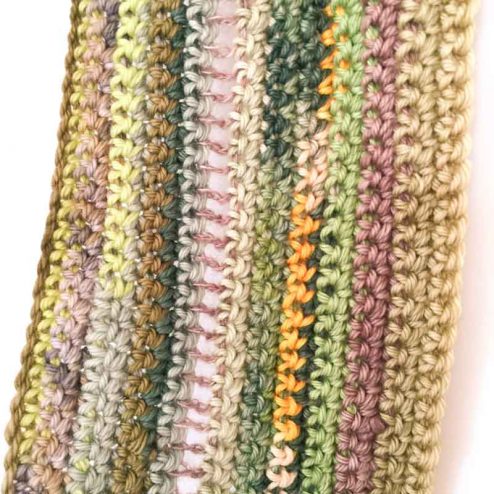 To start chain ~360
Row 1: Turn and work 1 single crochet (US) into the second chain from the hook.
Continue working across your base chain to the end.  If your current yarn colour runs out join in a new one and keep going.  I recommend crocheting in the yarn ends as you go to avoid a nasty situation when you finish. Chain 1.
Row 2: Turn and work back in single crochet, finishing with a Chain 1.
Repeat this row until your scarf is wide enough and finish at the end of a row.
To finish:
If you haven't finished the ends away as you go along then that's step 1.
There are plenty of options for finishing off the scarf ends.
For a circular scarf/loop/infinity/snood put your two ends together and stitch it closed into a loop.
His:  For a man I recommend a simple single crochet (sc) finish.  You can work two rows of sc in one solid colour working one stitch into each row of your scarf for a slightly flared finish.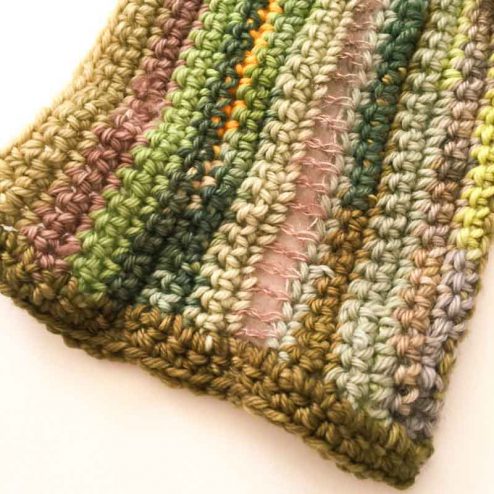 Hers:  Create a frill for a more feminine edging.
Row 1: work one sc into each row
Row 2: 3 double crochets into each sc of the previous row.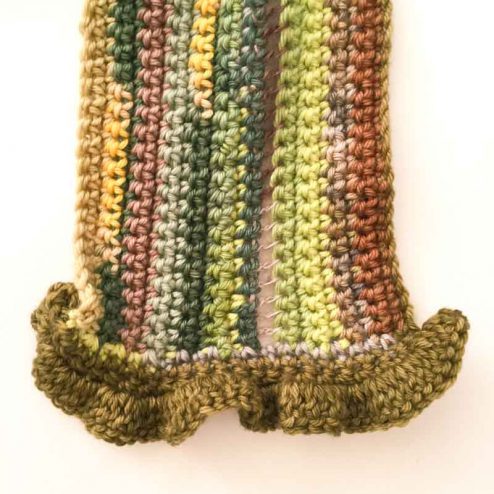 Finish away your final end, block and press.
If you've recently emptied your scrap bag then you could always try it in one of our variegated Merino DK yarns which crochet up beautifully!
Happy crocheting.