Rescuing your remnants
Selfies are not really my thing, but every now and then there is definitely a place for looking a little foolish as you hold up your camera and pose for yourself. This latest pattern seemed perfectly suited to it, as I wore it a lot over the last few months, particularly on chilly days when taking my dog out for a walk.
The Americans call them 'stashbusters' but we preferred the idea of a 'Remnant Rescue' – implying a slightly kinder approach to the various odd balls and half balls we find at the bottom of our wool cupboards. I can't bear to throw wool away (not even the skein ties we use in the studio for dyeing, but that's a story for another day) and the remnant balls are increasing at an alarming rate these days.
So here is a Remnant Rescue Infinity Scarf (aka Snood) that will be as unique as your collection of remnants and as inspired as your enthusiasm for recycling.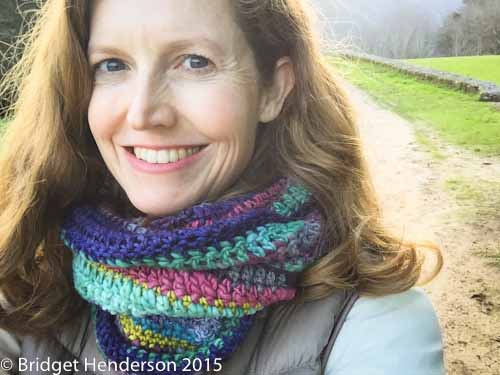 Remnant Rescue Infinity Scarf
Hook size: 5.5mm
I was using up my balls of cowgirlblues Handspun so this seemed appropriate, you may decide differently depending on the mix of yarn you have to hand.
Base chain: 130 chains
With my yarn this was appropriate picked a 5.5mm hook. I cast on 130 chains to achieve a width of 115cm, the ideal length for a scarf to wind twice around the neck without strangling you and without dangling forlornly about your chest and letting the draft in. (Depending on the size of your head, length of your neck and wearing preferences you're looking at ~110-120cm for an adult)
Make rounds of trebles (doubles) and doubles (singles) depending on how you want to blend your colours and how much yarn you have in various colours. I'm not pedantic about completing a round in a particular yarn – if I run out after 1.5 rounds I'll switch to the next colour since the point is to use up all the leftovers, rather than end up with more even smaller bits!
Colour is a very personal thing, and with something like this I encourage you to experiment. It's only recycling after all. For the selfie version I wanted to use the yellow, but you will see it is very gaudy so I just add a single row using double crochets to minimise the impact.
In the blue/grey/green version it was easier as everything already worked with everything else. I opted for fewer joins and worked with bigger blocks of colour. The strongest/bright green on the edge shows up beautifully on both sides when you twist it to wear.
When you start a round remember to begin with a few chains and "close" the round each time. Chain 3 chain to start a row of trebles and chain 2 for a row of doubles.
Continue until your scarf measures ~20cm in depth then end off and wrap around your neck.
PS: This also makes a lovely gift – so if you're already starting to think about Christmas presents this is a personal and environmentally friendly alternative to an expensive shopping spree (Unless of course you just have to buy more yarn to work with!)