On the second day of Christmas…
On the second day of Christmas I'm wishing I lived in a MUCH colder country that has winter at this time of year. It's boiling hot in Cape Town, and I know I shouldn't be complaining, but at this rate who knows if I'll make it to the twelfth day without being better cooked than the Christmas roast turkey! If only I had that Kitte Christmas Tree and a pile of snow to lie in (see the picture at the bottom of the post).
So I'm thinking cold thoughts, and imagining a place where it would be chilly enough for a baby to need this cute little Christmas present… our Japan-inspired Bobble Baby Hat.
This is a very quick and REALLY easy knit. The combination of yarns gives it pretty colouring and a super soft and snuggly feel that will keep any tiny tot toasty in chilly weather. And it will easily translate into something larger for a bigger person. Even Santa Claus might like one to keep his ears warm on that long sleigh-ride, but he might need jingle bells instead of pompoms!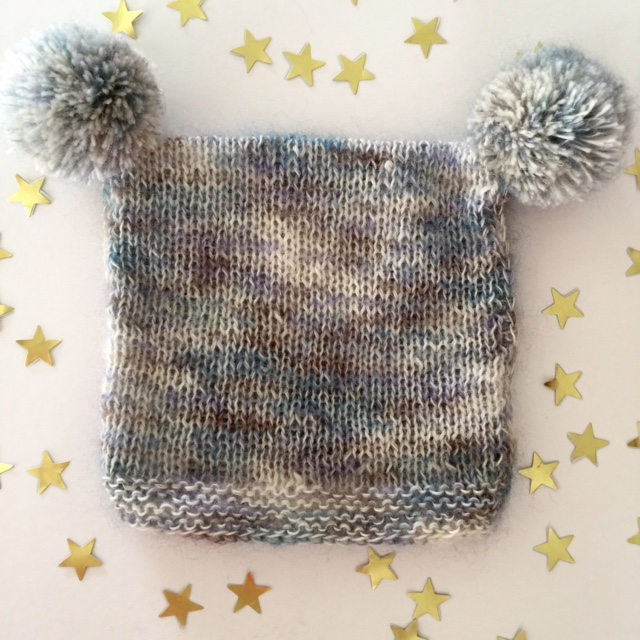 Materials:
2.5mm knitting needles
~10g leftover ball of cowgirlblues Kidsilk (variegated for the mottled colour effect, but semi-solid will work also)
~15g leftover ball of cowgirlblues Merino Lace (I used natural)
Gauge: 23 stitches and 33 rows to 10x10cm
Finished product: ~14cm long x 14cm wide
Pattern:
Using Kidsilk and Merino Lace together cast on 32 stitches
Knit 8 rows garter stitch
Change to stocking stitch and knit ~11cm
Cast off
Finish:
Fold in half on the length, leaving the "fold" at the top, and with wrong sides together stitch the sides closed (I used a single crochet to join the edges).
Make two small pompoms for the corners … I used a 4.5cm diameter cardboard circle, you could make them bigger or smaller.
Attach the pompoms to the corners and you're done.
And thanks to the lovely ladies at Moorit in Tokyo for the inspiration. Their latest book of knitting patterns has some gorgeous ones in this style, although sadly all patterns are in Japanese, for now! (We are working on them)