On the 8th day of Christmas – knit a neckerchief
On the 8th day of Christmas we bring you our interpretation of a pattern from one of my favourite knitting/project blogs, the lovely people at purlsoho.com. I discovered their website way back when they started, and have always loved their projects, presentation, in fact most things about the purlbee blog. And hopefully one of these days I'll get to visit the New York City store.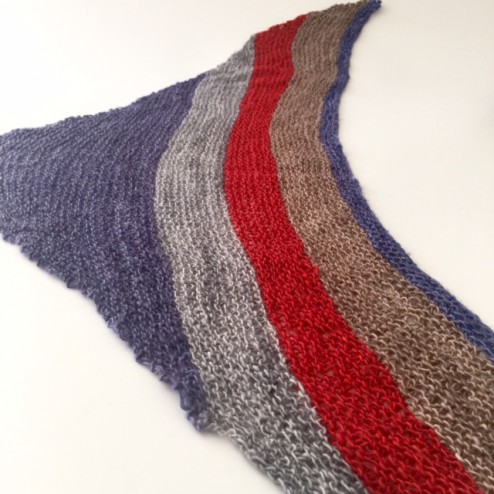 In the meantime I console myself with playing with some of their lovely patterns. The Color Block Bias Blanket is one of my favourites. I've made several of them for special friends, and even one for myself. It's useful for more than just blankets however, and that's what I'd like to show you today.
We have a lot of yarn ends lying around the studio, and a little while ago I picked up some of our Merino Lace leftovers in various colours to see what I could do.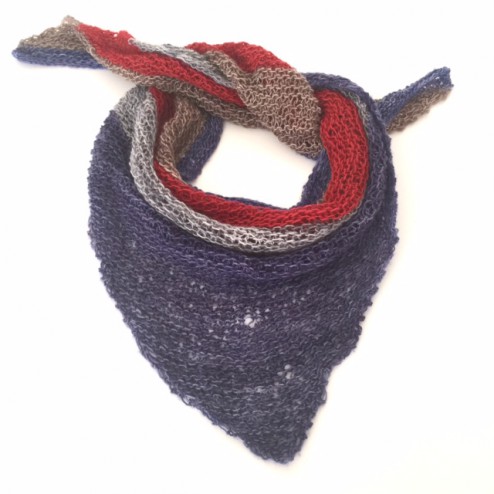 Materials:
Cowgirlblues Merino Lace in various colours
7-8mm knitting circular needles
Gauge: 13 stitches and ~30 rows = 10x10cm
Finished product: ~110cm wide x ~40cm tall
Pattern:
Follow this link to the PurlSoho pattern
Using the blanket pattern which starts from the corner I started working with my leftover yarns. When I ran out of a colour I worked in a new one, and I kept knitting until I'd had enough.
My measurements are for a small neckerchief rather than a shawl.
You could keep going to make a shawl, or follow their pattern gauge instructions and make a blanket.
This is a quick and easy knit, there is a good explanation for how to do the increases, and it's a great way to use up your leftovers.
Happy knitting!