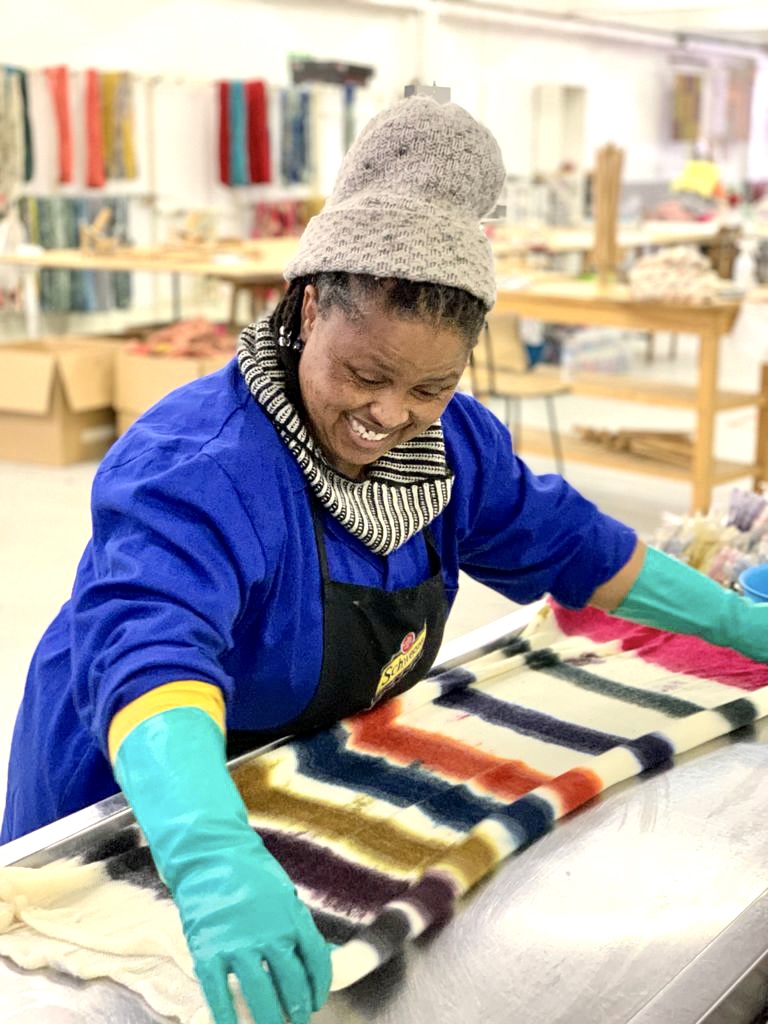 Meet Busiswa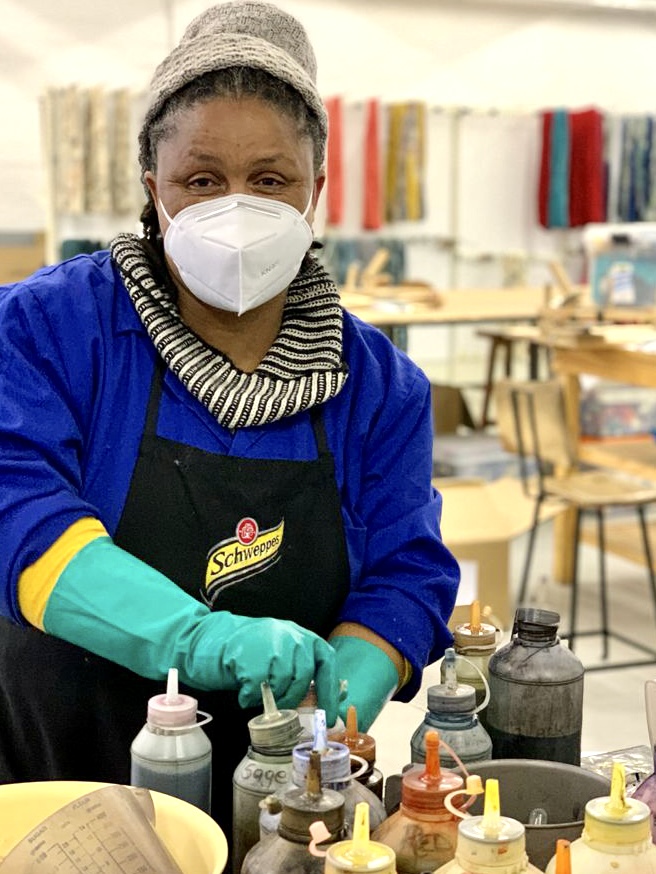 Busiswa joined the Cowgirlblues team in 2015. The team was small. She had never worked with wool before. So in the beginning she started like everyone who joins us in production. First she learned to handle the yarns by washing them after dyeing, and hanging them to dry. Next she moved to winding balls and skeins and getting them labelled and ready for order.
Busiswa used to sew before she joined Cowgirlblues. And she carried this on at home. Every year on Heritage Day she would come to work in a beautiful traditional Xhosa outfit that she had made herself. These sewing skills came in handy at work too. We often got her to help sew project bags, washing bags, and anything else that needed stitching. And we even had a cushion phase which we couldn't have done without her. Although she clearly communicated that sewing in zips is not her favourite thing!
Learning to dye
As the business grew we needed more help with dyeing. Because Busiswa was keen to learn she quickly became an indispensable part of the dyeing team. However she is not the tallest person. So we had to put special steps next to the dye pots so she could see into them. And now she has her own dyeing table with very short legs.
Last year Busiswa took the step of becoming the Production Supervisor. This is a big shift – to go from doing the work yourself to motivating other people to get it done. Even so she has been a champion. Her colleagues love and respect her. She is very hard-working and quietly gets things done. And she is a great teacher. At the moment she is teaching me some Xhosa. I'm a slow learner. But she is patient, and not just with me. We are working on language amongst the team because it's important that everyone can speak good English. This isn't easy if it's not your mother tongue. In exchange our Xhosa speakers are teaching the rest of us to speak some Xhosa. So we are all learning something new.
Busiswa still loves sewing. She sews at home when she has time. "Seeing people wearing my clothes makes me happy". One day she would like to open her own clothing shop and to have people working for her.
Not too soon please Busiswa!
Here are a few things you should know about Busiswa.
Family life: married and mother to two young boys
Favourite yarn base: Merino DK
Favourite colour: Hot Pink Stripe and Faded Rose
Best thing about working at Cowgirlblues: Creating new colours with Bridget and experimenting with new ways to dye
Knitting or crochet: crochet, definitely not knitting!