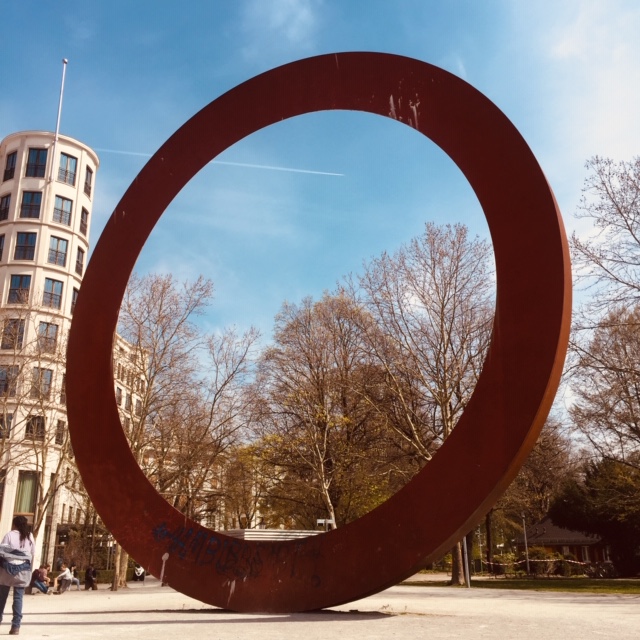 Meandering around Munich
While I was in Germany earlier this month I managed to fit in an overnight stop in Munich. The city is the capital of Bavaria, in the south-eastern corner of the country.  And it is full of history, arts and culture.  Because my visit was really short I spent most of it just meandering around Munich.  Wandering the streets and taking pictures of things that catch my eye is my favourite way to experience a place.
My time was limited so I stuck to the Altstadt area.  The weather was amazing for so early in spring and there were flowers everywhere.  It's so different from our South African spring.  So the flowers are quite different.  And because of the long cold winter there is something magical about the blossoms and colours.
In my mind Munich is the city of beer – probably because of it's annual Oktoberfest.  But unfortunately I've never been.  But in my meanderings I had marked the Hofbrau Haus as an important stop.  I don't drink beer but I had one there 🙂 And a giant pretzel too of course.  All to the accompaniment of the oompah band.  Sadly no pictures of the inside as my phone battery died. From the number of pictures you can probably see why!
I noticed a surprising number of people dressed in Bavarian lederhosen outfits.  And shops everywhere were selling traditional dress of all shapes and sizes.  The women's dress fabrics were very inspiring.  I love the layers of colour and pattern.  They might lead to some knitting inspiration one of these days.
Transport is essential in a city like Munich and there seems to be a strong cycling culture which is brilliant.  And being pretty flat helps with that.  But of course you can't go to Germany and not notice the cars.  BMW and Mercedes Benz are everywhere.  And in looking down I noticed that the lines on the road that mark parking spaces are blue!  But I didn't spend all my time looking down.  So I was struck by the incredible visuals when looking up, like this amazing mosaic that reached several stories tall.
Thank you Munich for a lovely visit.  Hopefully I'll be back!