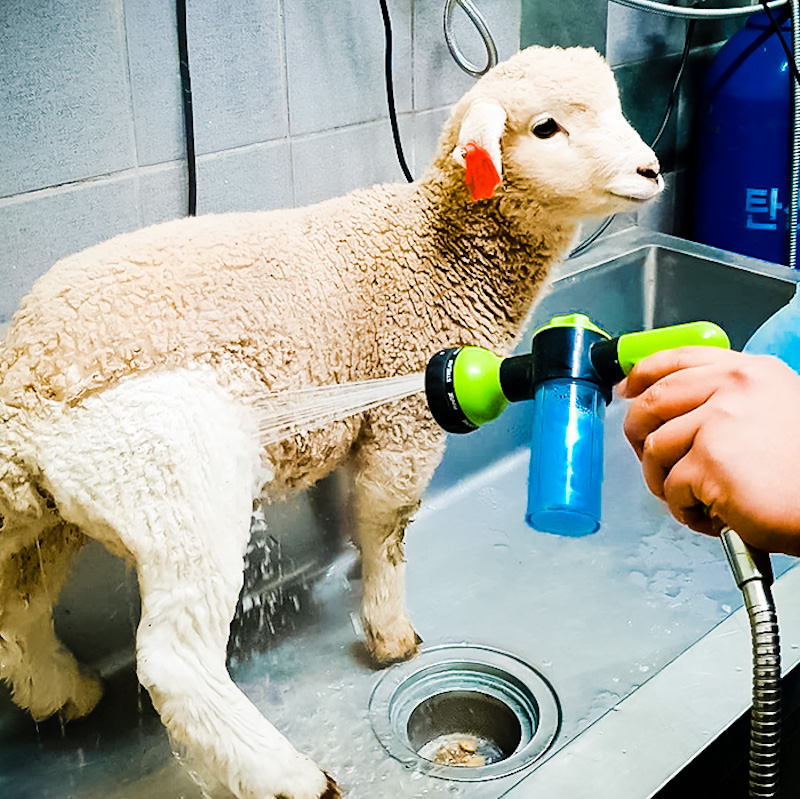 Keep calm!
It's hard to keep calm and stay inspired at the moment.  Everyone around me is worried and anxious.  I am too. It's an appropriate response to the current global pandemic and the hugely uncertain implications for all of us.  People are coping in all sorts of different ways.  The outpouring of creativity, humour, kindness and connection is incredible.  Websites like Boredpanda.com have probably never had so much traffic.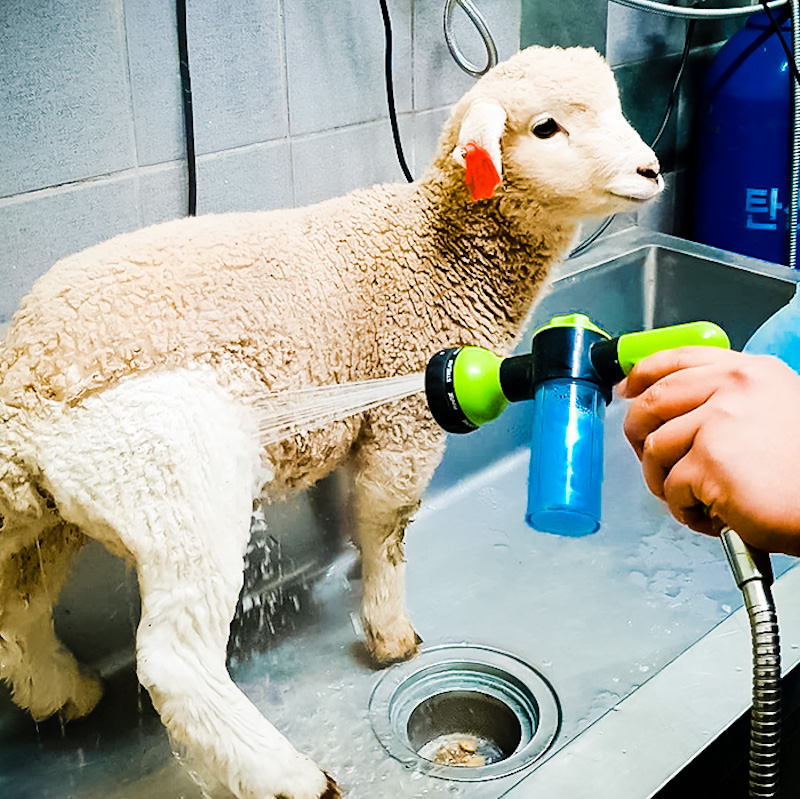 For some cuteness and light have a look at this post of a lamb getting a bath … Thanks Nature Cafe in South Korea is an animal cafe.  What an inspiration, and who knew lambs could get so fluffy and clean!!!  They would make a fantastic shampoo commercial.
It's never been a better time to be a knit or crochet enthusiast!
We are all so incredibly lucky to have something we love to do indoors, no matter the weather.  And many of you have stash stockpiles of materials just waiting to be worked up. Lots of the knit and crochet designers I follow are sharing free patterns and purchase discounts.  We have a bunch of free patterns here on the blog also.  So I thought it might be helpful to share a project roundup of things to make.
These free patterns are all available right here on our blog:
(I'm a little technologically challenged at times.  I couldn't make the pictures link to the pattern posts, but I've made a list below and you can link to any of the patterns there, or scroll through the blog)
Zelda
Sideways Shawl
Cassie' Socks
Astrid
Beanie and Neckwarmer
Soft Stripe Poncho
Geneva Sweater
Colour Block Scarf
Kidsilk Cobweb Shawl
V-Neck Vest
Country Roads Scarf
Hamburg Beanie
Links to free patterns on our blog:
If you prefer a knit kit try one of these
And while you're making you may need something to watch or listen to.
Here's a list of some of my favourites.
It's a mix of total distraction and interesting information:
Watch Schitts Creek on Netflix or your service provider of choice.  It's hilarious (to me) and David Rose has the best wardrobe of contemporary knitwear I've ever seen on screen.  His mother also has the most amazing collection of wigs!
"The series follows the trials and tribulations of the formerly wealthy Rose family who are forced to relocate to Schitt's Creek, a small town they once purchased as a joke." Wikipedia
A few of my other much loved Netflix shows are:

Toon: Dutch with sub-titles, a great comedy a socially awkward guy who becomes an overnight Youtube sensation
Shetland: great detective series, I have a serious crush on Douglas Henshall
Unbelievable: mini-series based on a true story
Mindhunter: about the beginnings of behavioural science at the FBI, gripping
Working' Moms: Canadian series about a working mother, obviously
Offspring: delightful Australian series about a crazy family and their lives
Queer Eye: if you are open to reality shows then this is a great one to get into
Blown Away: glass blowers compete in a knock-out style contest, it's beautiful and inspiring

Watch/Listen to some TED talks … this list of all-time most popular is well worth a run-through, and you absolutely must watch Sir Ken Robinson on kids and creativity in schools
Find a few podcasts to follow.  I use my iphone app and follow a bunch of things, lots of them are business related which may not be your vibe, but some of the more general ones are fascinating:

How I built this with Guy Raz from NPR
Building a Story Brand with Donald Miller
Hidden Brain with Shankar Vedantar from NPR
Super Soul Conversations from Oprah
TED Radio Hour
Have a look at The Guardian's list of best podcasts of 2019
If you need project advice, help with stash-busting colour combos, or just want to say hi please give us a call on 071-0834850.  We do whatsapp video consults on this same number, love hearing from you on Facebook and Instagram, and would love to connect.
As a business at Cowgirlblues we are doing everything we can to be informed and responsible in these troubling times.  For now we remain open for business, and are taking every possible precaution to manage the health and safety of our staff and customers.  Hand washing and hand sanitising hygiene protocols are in place for every person entering our premises.  We are using alcohol solutions to sanitise point of sale touch points after every use, and to keep our work environment clean.  And we have a fabulous online shop!!!! We ship very efficiently locally with Fastway, or Aramex if you're in an outlying area, and internationally we love our partners at DHL.
Stay healthy, and keep knitting and crocheting as we ride out these turbulent times!