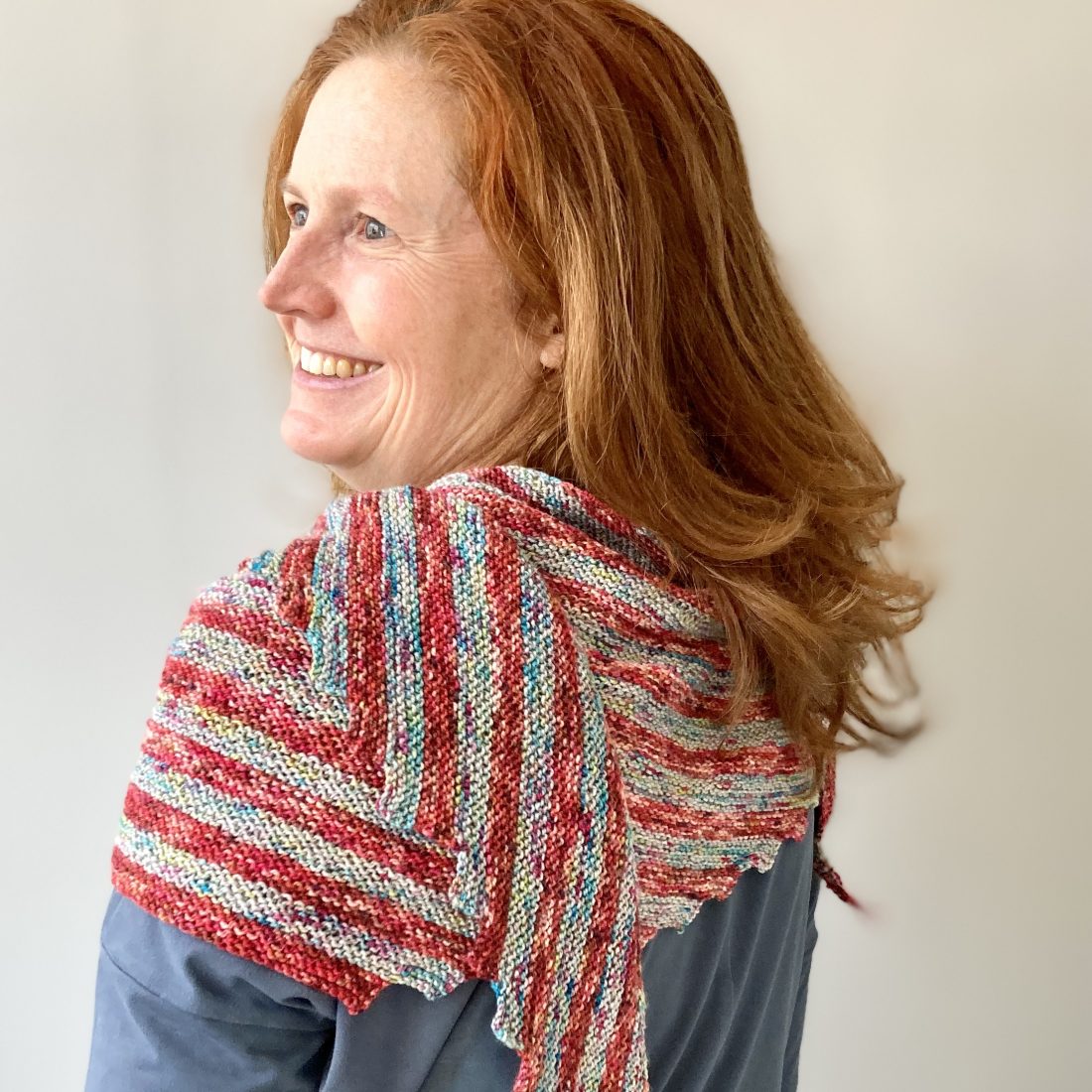 A Hitchiker's Guide
Martina Behm's Hitchiker Shawl knitting pattern is a perfect "go to" to have in your collection. It's an easy knit. Versatile in terms of its yarn requirements. And easy to adapt to different needles, yarns, size, etc.. I decided to knit a two-colour version and have made a short guide to help you do the same. Keeping the edges neat is important to me. So I tried various methods and found one that worked for me.
I was on Ravelry looking for a pattern that would knit up with two skeins of our Merino Twist yarn. I had a Virtual Vogue Knitting event coming up. And showing how a yarn knits up really helps people visualise it. And of course this helps it sell. Ravelry has a great Advanced Search function where you can specify loads of details … meterage, needle size, style, techniques, etc. I use it a lot, although you do end up with thousands of possibilities. So I also started looking at the most popular designers and patterns, the most favourited, queued, etc. The results are fascinating.
Landing on the "most projects" results I was delighted to see that Martina Behm holds top spot for paid patterns. And No.2 spot overall. Martina is a German designer who published her first Ravelry pattern almost 12 years ago in November 2009. And she's been busy ever since. A few years back I got to visit her home, in a small village north of Hamburg. We had dyed a custom colourway for her Yarn Club and I was invited to the cast-on party. It coincided with other travel plans so I did an early morning drive across the Netherlands and Germany to the event. What a fun experience meeting loads of German knitters and talking yarns and projects.
Martina's most famous pattern is her Hitchiker Shawl. There is an astounding collection of 33,501 Hitchiker projects on Ravelry. Soon to be 33,502 because I haven't posted mine yet.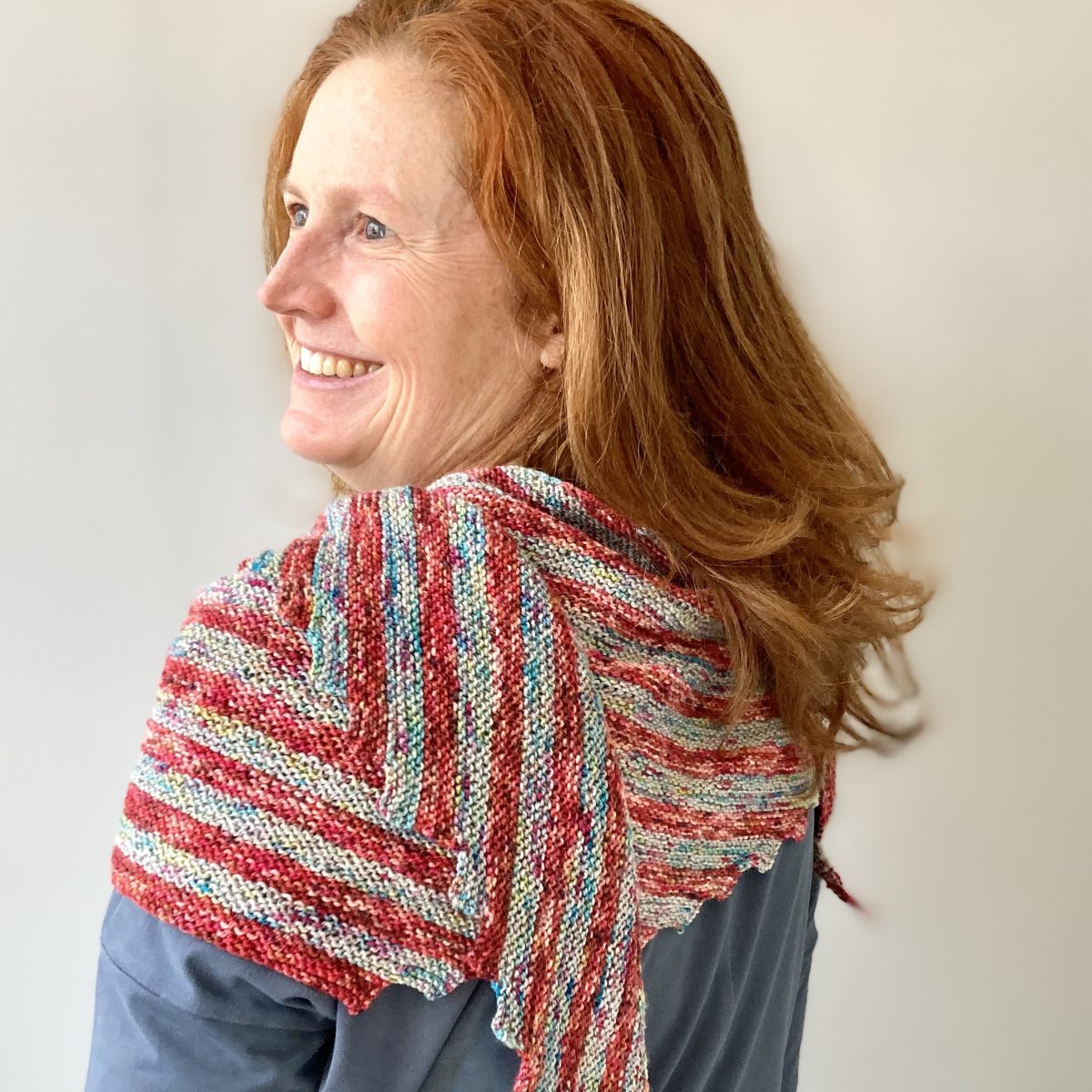 One great thing about this pattern is its versatility. Martina created it for a 3mm needle using ~520m of fingering weight yarn. I like the fabric drape of our Merino Twist on 3mm needles so I skipped the swatching and started knitting. DON"T do this when the project needs to fit. But for a flat shawl it's fine. I had two skeins of yarn in different colours and felt like a stripe. So I worked the 8-row repeats in alternating colours and carried my yarn up the side, twisting the two strands together to keep the "carry" edge neat.
You could just as easily adapt it to a different yarn base altogether by changing needle sizes up or down. Just remember that the finished size will get bigger or smaller so have more or less meterage available to play with. Since you're working from the small end and expanding you can try on frequently and stop when it's big enough. And I think it would make a fun stash-busting project too. You could use up all your scraps, marl different colours and weights together. The sky is the limit!
The pattern is also very forgiving as you can see here. I forgot to create the spine in this section, but it's almost unnoticeable. And in a few of the repeats I knitted 10 rows instead of 8. So what, just keep on knitting!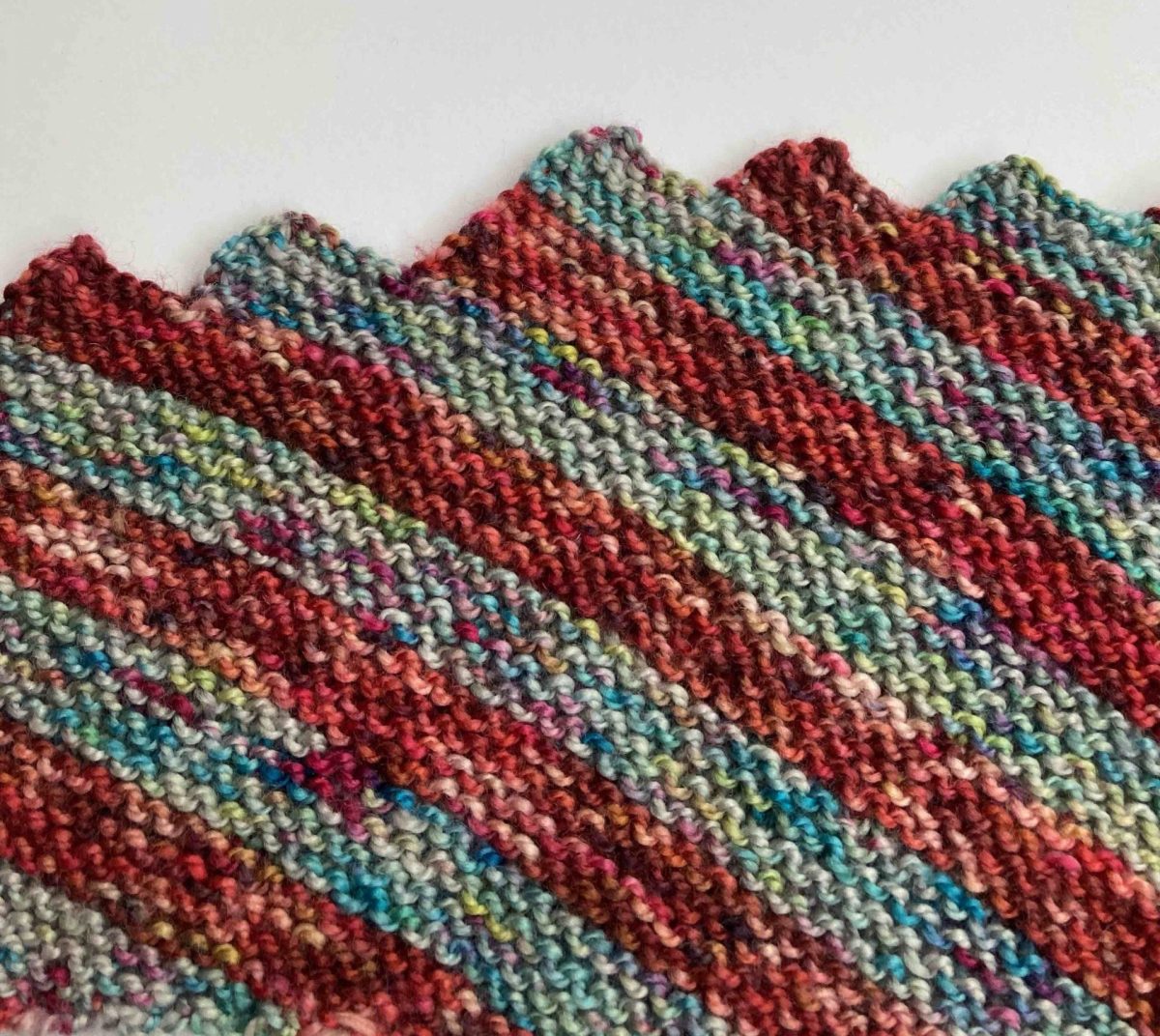 If you like my yarn colours we've got a 2 skein knit kit set up on the website. Just click and go. Or mix up your colours and play around.
Need some help? I've made you a video tutorial showing how to weave in your ends as you go. And how I carried my yarns up the side. I hope you find it helpful!