Go granny, go!
My nearly-ninety-two-year-old granny is still alive and well, so whenever I work with granny squares I think of her. As a child I had a granny square crochet blanket that lived on my bed in winter. My granny firmly denied having made it and said she couldn't crochet. So I didn't learn until my mid-30s. But I'm hooked (excuse the pun!)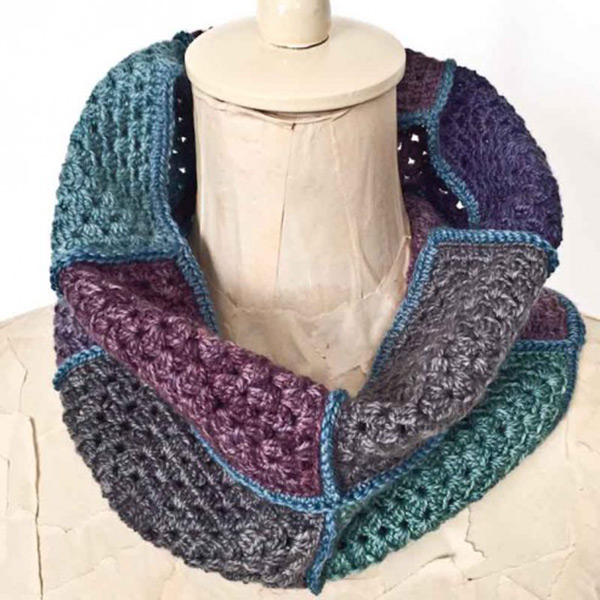 Granny squares are my go-to comfort crochet. I don't have to think and love the speed at which they work up, the versatility of the shape, and the fun you can have with colour if you're feeling energetic enough to be sewing in a million ends.
So this was a fun project that didn't take too much hard work, and the end result is a beautifully warm cowl. I leave tomorrow night for a northern European adventure, so I think this neckwarmer may find it's way into my suitcase and be put through it's paces on the streets of Copenhagen later in the week!
Sizing:
One size neckwarmer
Width ~30cm, Height ~25cm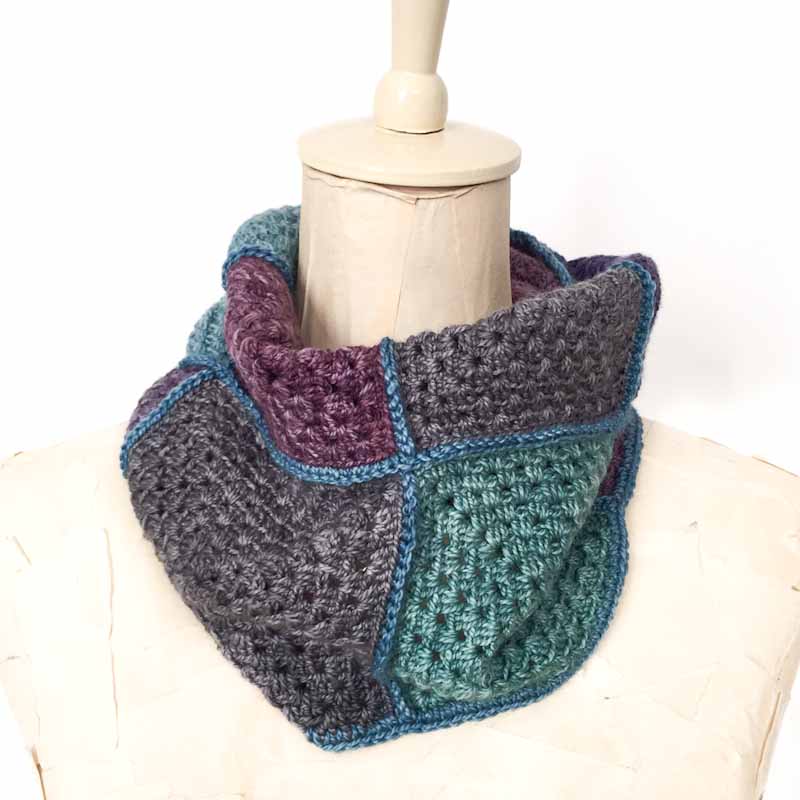 Materials:
4 x 50g cowgirlblues Merino Sock in different colours
I used: Jade, Charcoal, Aubergine and Guinea Fowl
3.5mm crochet hook
I worked three squares in Jade, Charcoal, Aubergine and one square plus the edging in Guinea Fowl to make 10 squares and did the joining and edgining using the Guinea Fowl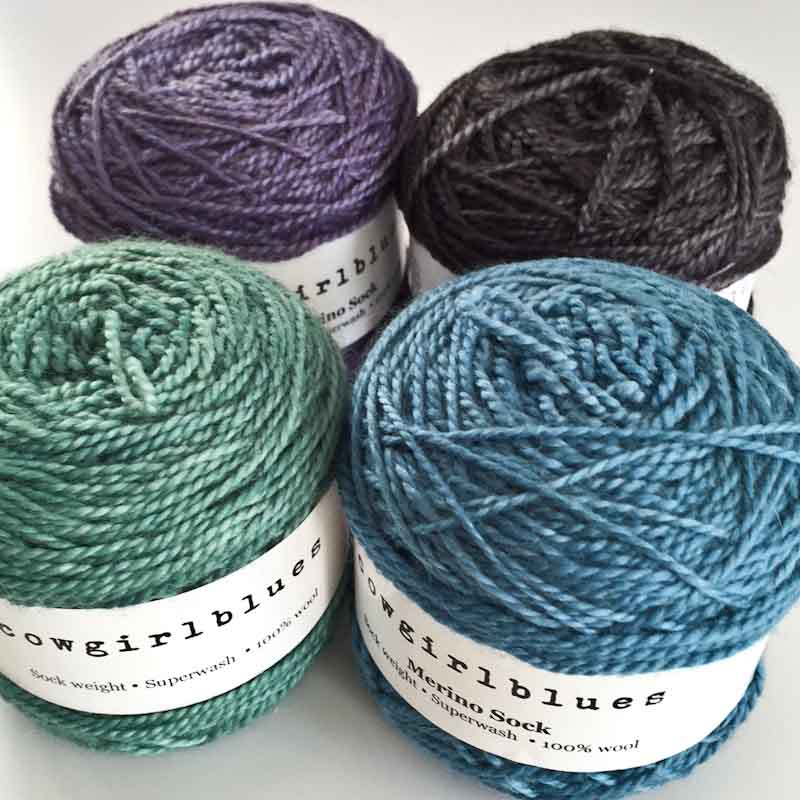 Gauge:
My squares measured 13x13cm and weighed ~15g/square
9 rounds per square
Instructions:
This is a very basic granny square and there are a gazillion websites and blogs with instructions so I'm not going to go into much detail
Chain 4 and join to form a ring
R1: Ch3 (forms first dc), work 2dc into ring, ch2, (3dc, ch2) Repeat twice, Join with slip stitch
R2: 2sl st to the corner, repeat clusters of 3dc, ch2, 3dc into each corner space, join with slip stitch
R3: As per round 2, but in each "non-corner" space work a 3dc cluster, only separate clusters with ch2 at the corners
R4: continue as per R3 until you've worked 9 rounds in total
Cut yarn and pull through your last loop
Repeat until you have 10 squares
Finishing:
Lay out your squares in a 2×5 rectangle and move them around until you are happy with the arrangement.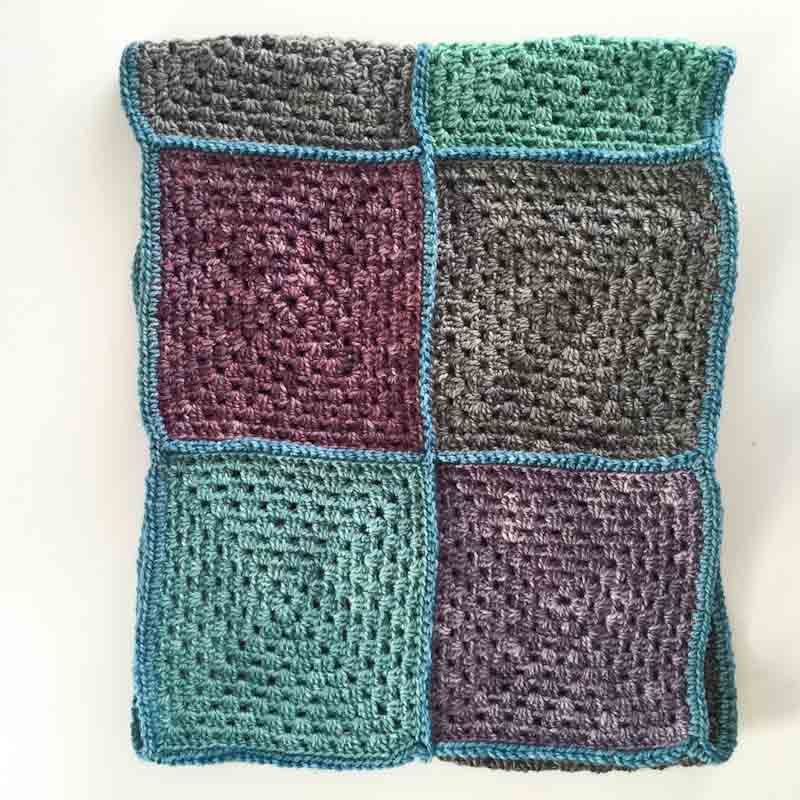 Remember that you're going to join up the two edges, I made sure I wouldn't have the same colours next to each other
Use the contrast colour (Guinea Fowl in my case) to crochet the squares together … I worked the centre line to join all 10 squares and then filled in the verticals and finished with the edges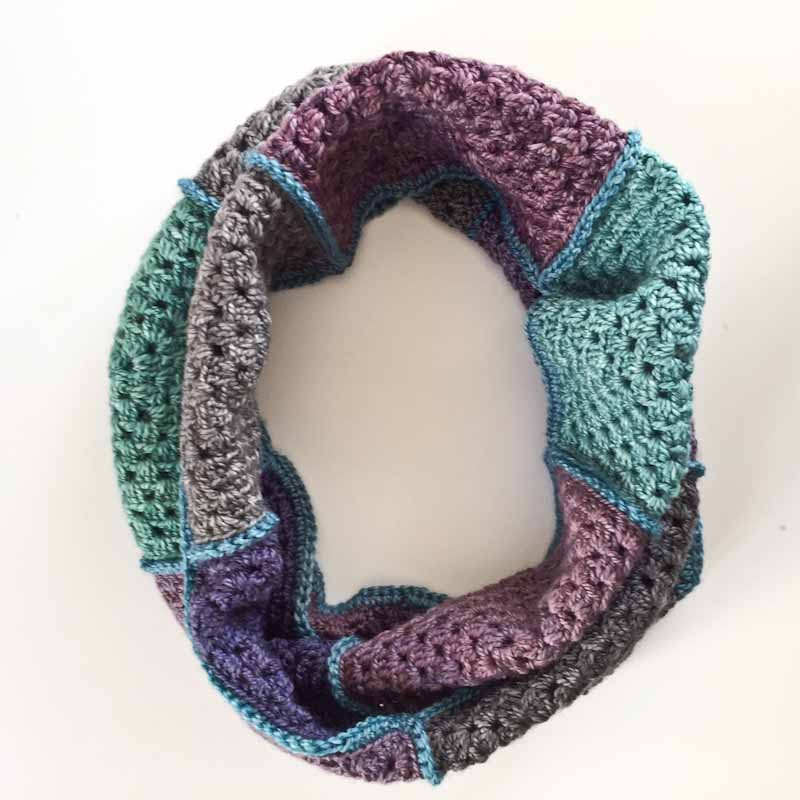 Abbreviations:
dc – US double crochet
ch – Chain
slst – slip stitch