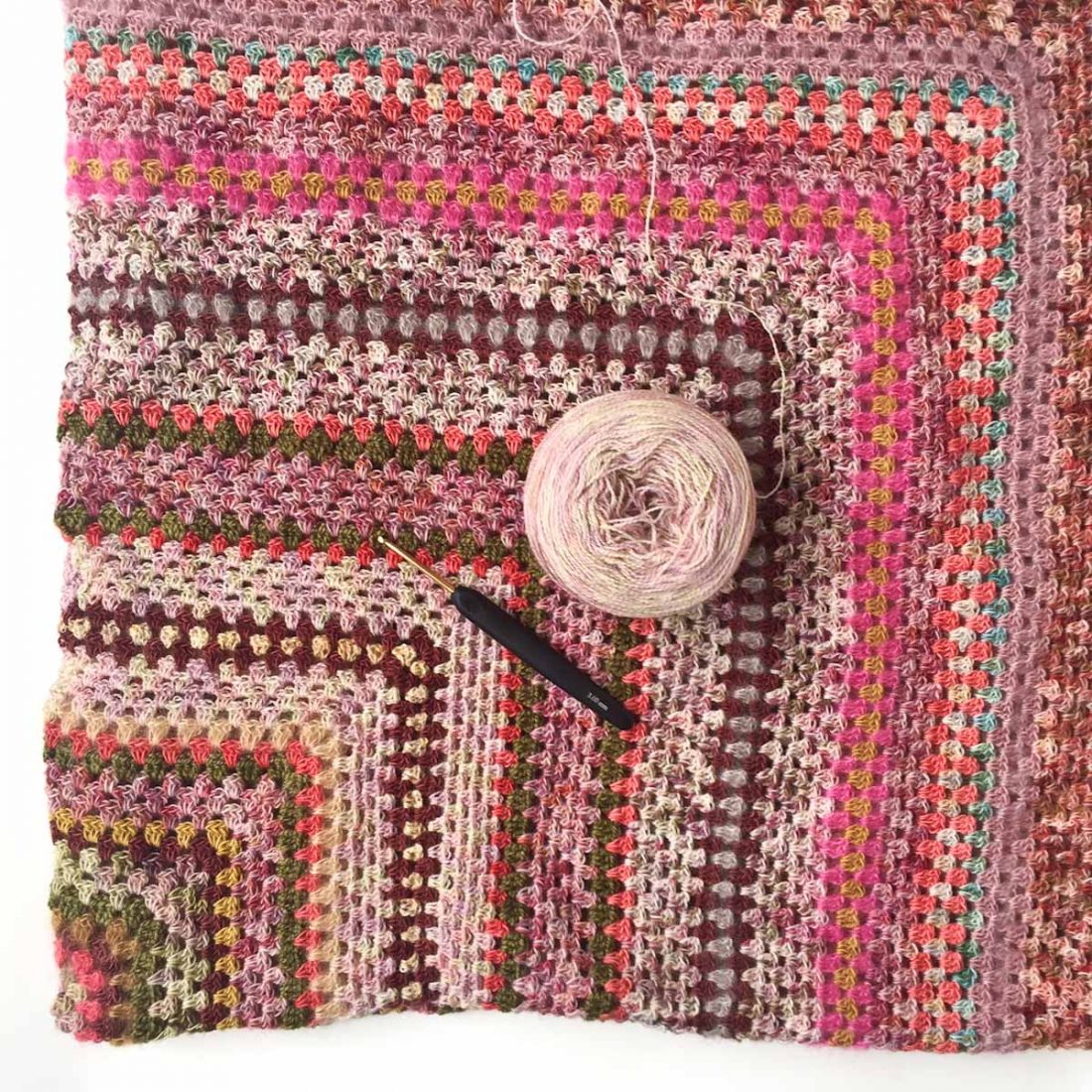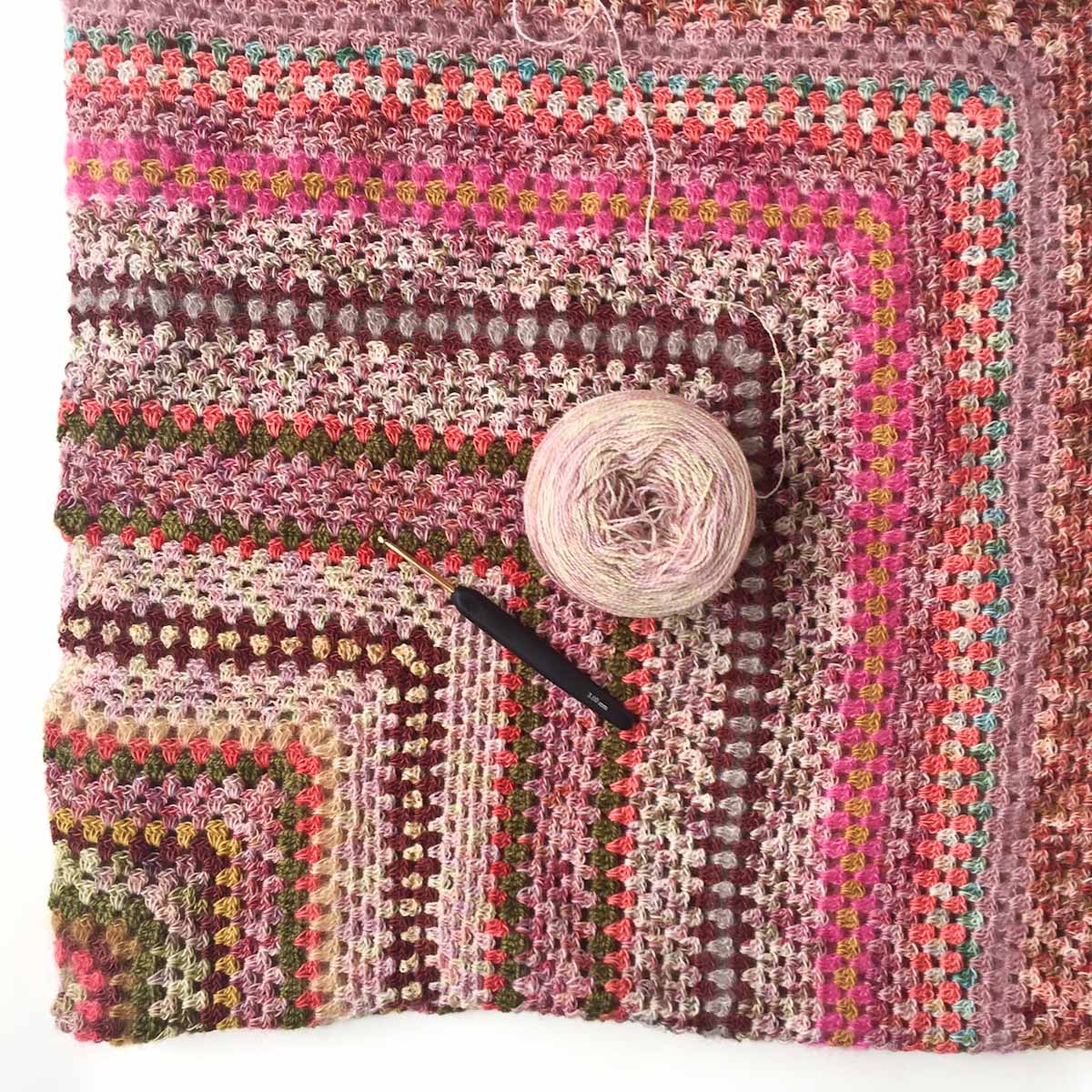 Crochet yourself a Giant Granny Square Blanket
About a week into lockdown I started thinking about a big project.  I wanted an heirloom, something that I would keep forever, that would always remind me of this time.  With a business to run and a lot to worry about (I'm no master of zen) I also wanted something meditative and relatively simple.  It needed to give me freedom to watch movies, enjoy long catch up chats with friends and family, or watch my garden grow.  I love a good granny square although no crochet fundi, and I also love to knit.  However after exploring the yarn resources at my disposal the idea of making myself a Giant Granny Square Blanket was very appealing.  I've made several granny square blankets for other people – my granny for her 90th birthday, my brother and his wife for their wedding, my best friend and her family for their king size bed.  But I've never made a giant granny square.  So this was a bit of a challenge.  And also a commitment to me.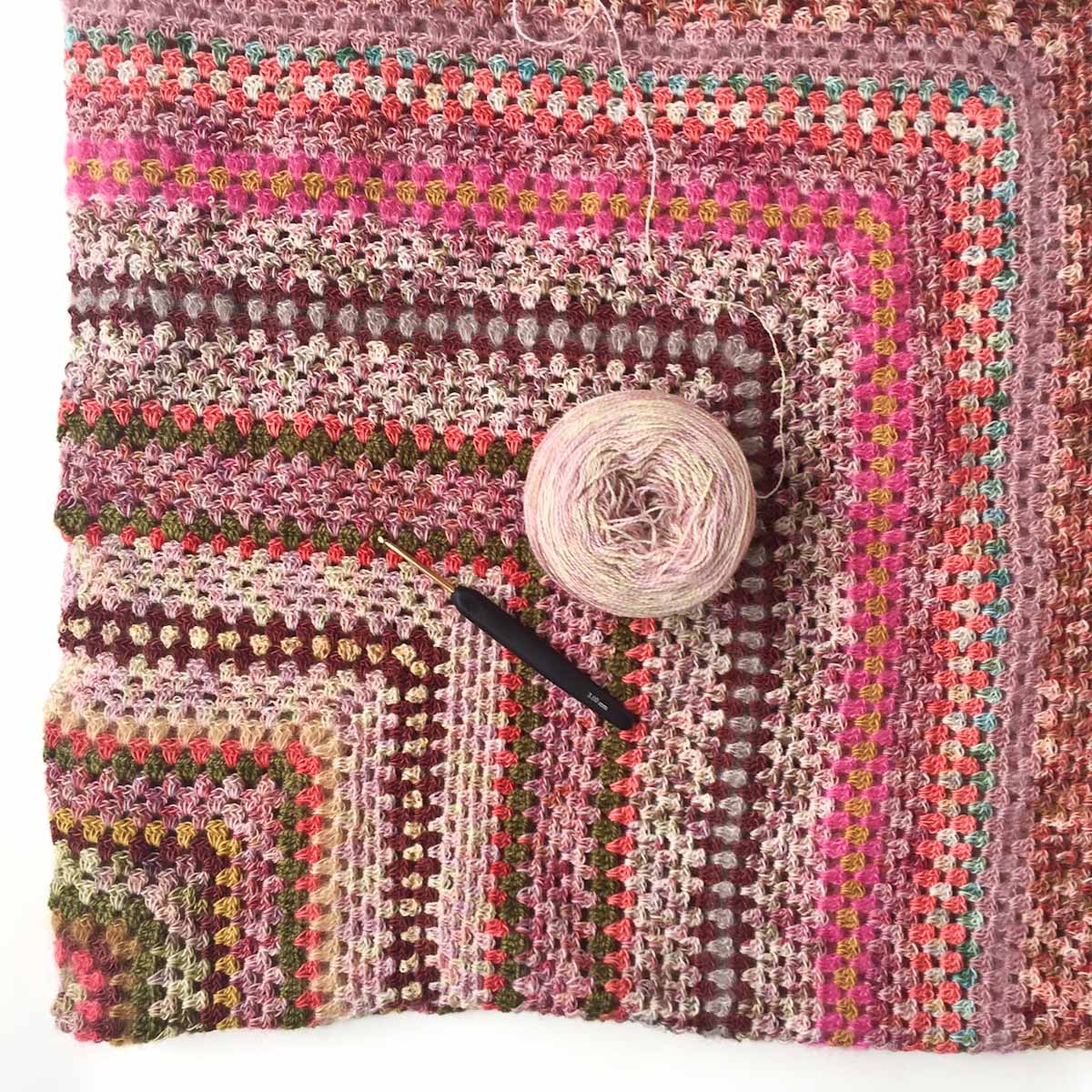 It took me some time to get started as I was nervous about the colour palette and how to mix colours together.  With a blanket of small squares you can get started and make some of the design decisions when you piece it together.  With a Giant Granny Square you're committed from the get-go.  So my first step was to get into "play" mode and just organise what yarn I had available.  It was important to me that the end result is a mix of both handmade and stylish, not too crafty.  And based on my sorting process I came up with a plan.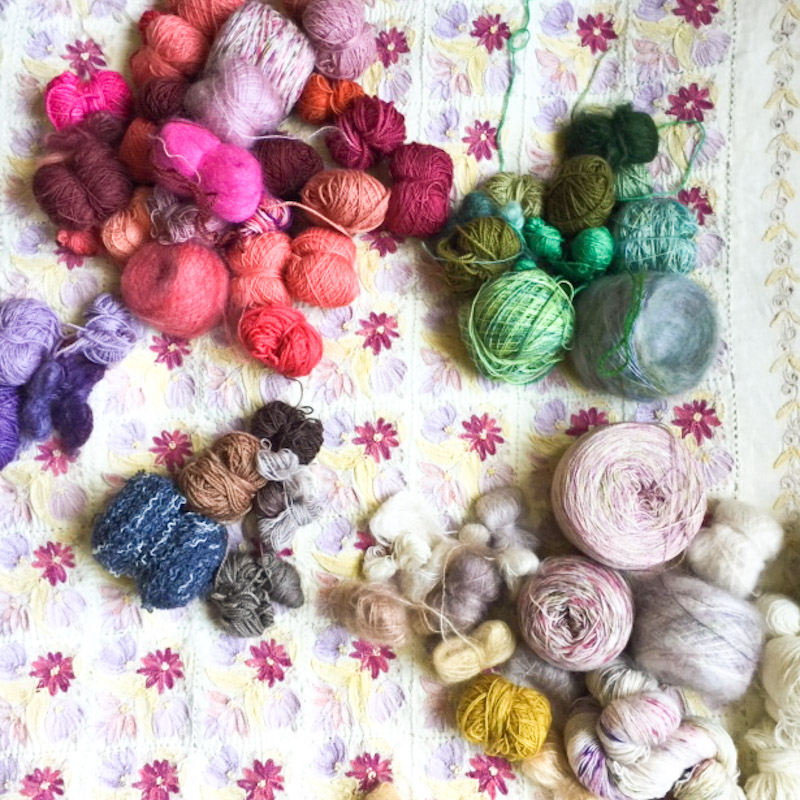 I had a lot of finer weight yarns like Cowgirlblues Kidsilk, our Merino Lace Single, some of our mohair/wool 2ply lace, and smaller bits of Cowgirlblues Merino Twist.  I knew it meant that this was going to take a lot of work, but I figured working with the lighter weights would also make it a more versatile blanket in the end.
Colour-wise there wasn't much in the "blue" spectrum so I decided on a more spring/autumn colour palette of pink-red and some greens for contrast.
My crochet hook of choice is my favourite … 3mm.  With that I could work the different yarn weights and get some textural differences but not upset the Granny Square tension too much.  And I figured the textural differences would add to the interest of the end result.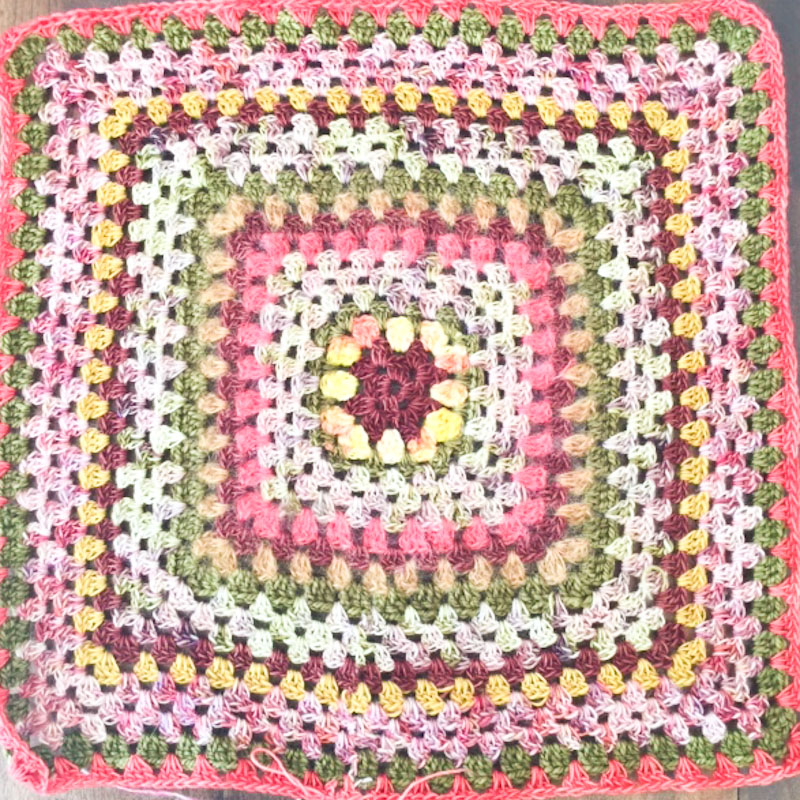 In the beginning I did a lot of second guessing and judging how the colour combinations were coming out.  But with limits to what was available I had to just keep moving.  And once it got bigger there was no way I was taking out a row because I didn't like the colour.  So it was quite a nice challenge to find a rhythm and make it work.  And I'm happy with how it's turned out so far.  The mix of solid colours and variegated yarns is especially pleasing to me 🙂 I LOVE how variegated yarns crochet.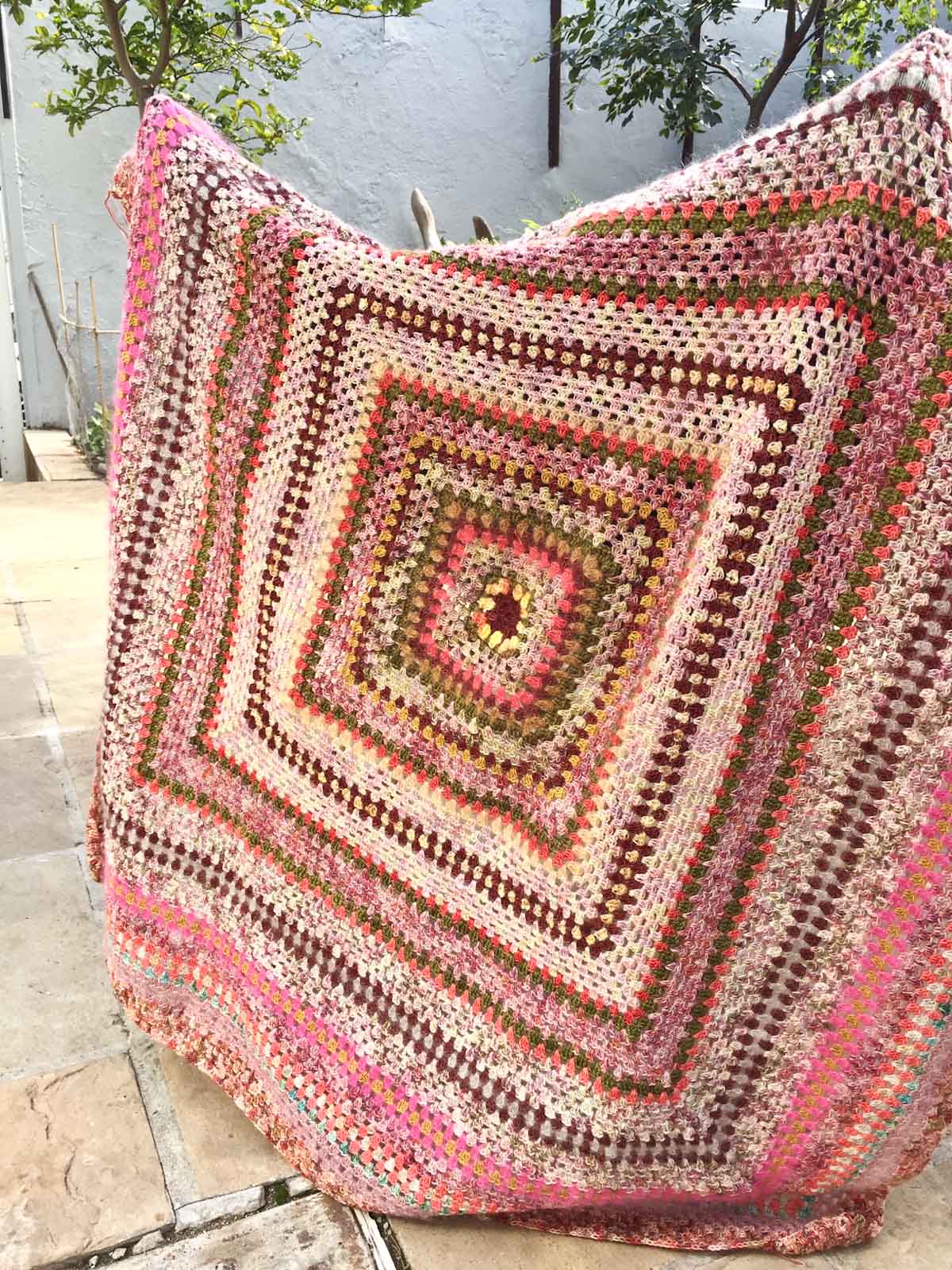 As of April 20th I've worked 80 rounds, used 400g of yarn (somewhere around 2,000m) and it's just over 1m across when laid flat.  I'm hoping I'll be able to get it to about 2m but that may be a little ambitious.
At the moment it takes almost an hour to work one round!  But I love every twist and turn of the hook, the feel of the yarn, and the comfort of draping it in my lap and on my legs while I work.
Because it's an easy and repetitive stitch I can "watch and work".
I've charged through Seasons 3 – 6 of Parenthood which I loved.  (I had already watched the first two seasons before I started)
And I'm now onto another old series called Friday Night Lights.  American Football isn't my vibe but the characters are shaping up nicely and there are 76 episodes.  That should keep me going for a while!
I mix it up with TED talks, youtube videos and other entertainment when I need a change of scenery
To get to 2m wide I'm going to need to crochet another 80 rounds.
With 2 more weeks of lockdown (at least!) if I work 4 rounds per day that's only 56.  And they are going to take longer and longer as it grows.
My goal might be a little ambitious.
But let's see how it goes 🙂
I've never been one to shy away from a challenge!