Creative cushions
We are constantly thinking of ways to use up the leftover bits of yarn that lie around the studio. I have an (almost) pathological inability to throw yarn away, even the tiny little scraps, and suffer from the firm conviction that they'll come in handy one day. I'm not sure that's always true, but in this case ends of balls is what was required for our creative "clean-up" cushion.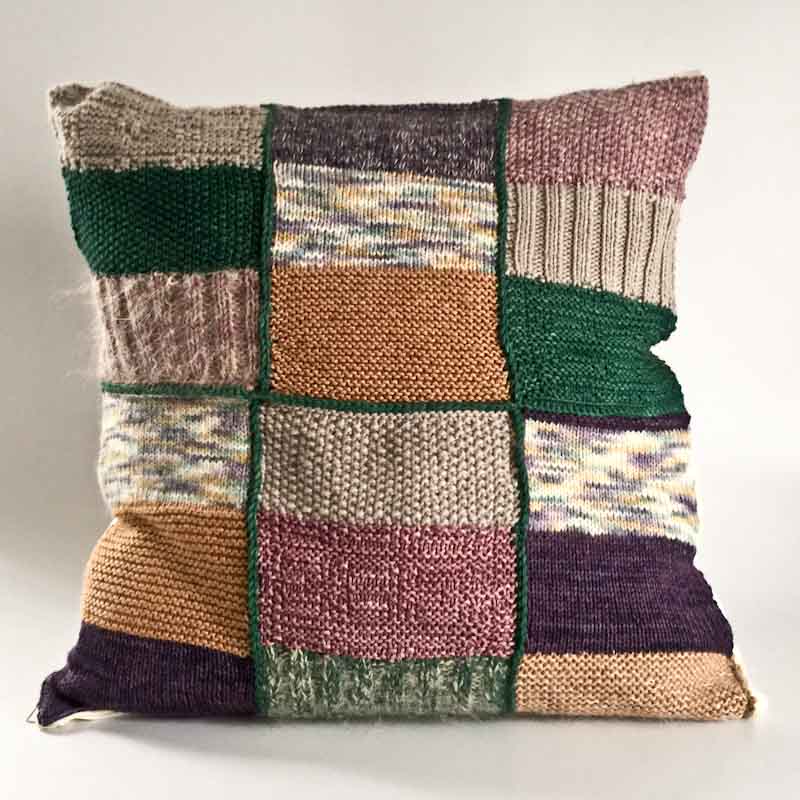 Size:
Our spare cushion inner was 60x60cm so we worked with that, but you could adapt it to fit any size.
We worked with a grid of 3 x 6 = 18 blocks of ~18cm wide x 9cm long (to stretch the cover a little over the cushion)
Materials:
~6 balls cowgirlblues Merino DK in 6 different colours, or ~15g/30m per square
4.5mm needles
1 x cushion inner
1 x cushion outer in a plain fabric, or re-purpose an existing cushion outer that you're tired of and simply stitch your new knitted front onto the old cushion
Note: we were using up scraps, so we mixed different yarn weights including the Aran Weight, and we stranded in some cowgirlblues Kidsilk remnants with the DK on a few of the squares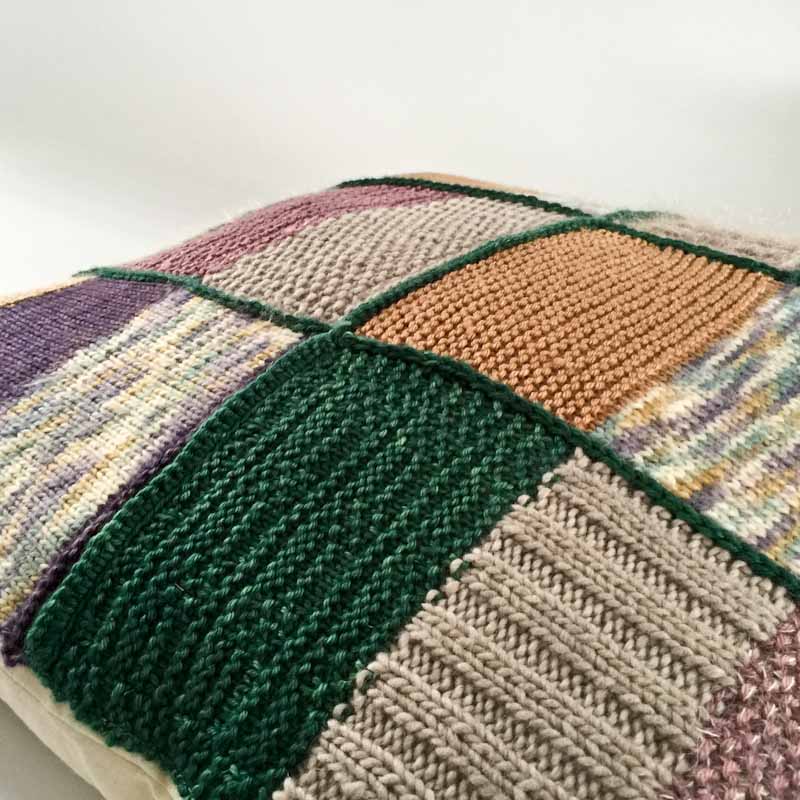 Gauge:
17 stitches and 26 rows = 10x10cm in stocking stitch using cowgirlblues Merino DK
Elmarie did the knitting for this cushion and she worked in 3-block panels, mostly because when we started we weren't entirely sure what we were going to do with the panels. Initially I had planned to combine them into a cowl, but we ended up with the cushion.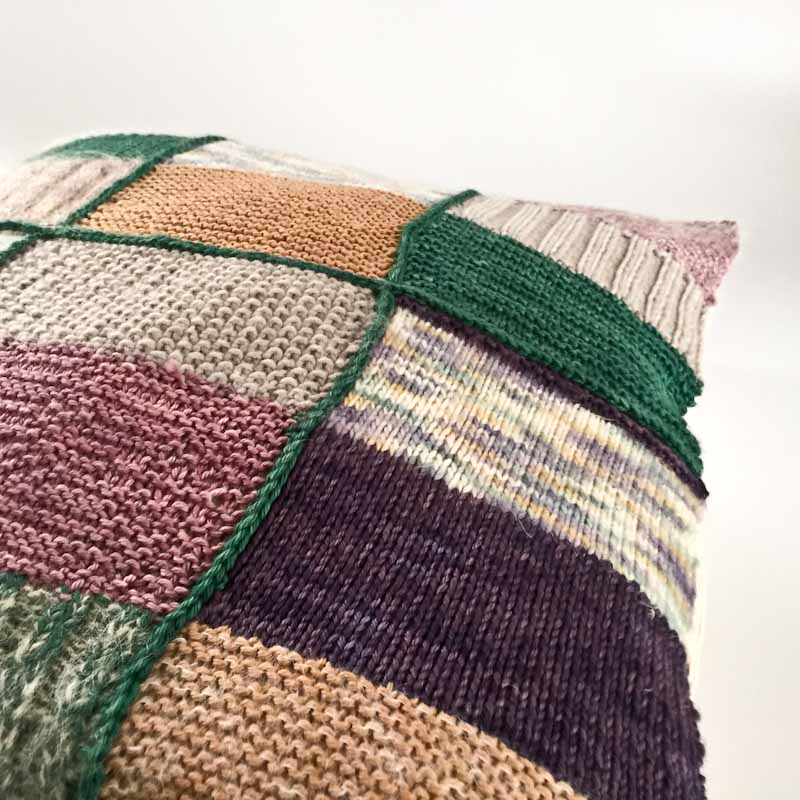 Instructions:
Start by making some design decisions (which we didn't do! I usually make it up as I go along when playing with pattern ideas)
1. Plan your colours: work in a multiple of 3 as this makes it easier for a 6×3 cushion, we used 6 colours
2. Choose your stitches: perhaps each colour is always worked in the same stitch, we used garter stitch, stocking stitch, moss stitch and a rib, but again 3 is an easy multiple
3. Decide how you will assemble: you could make bigger blocks of 3 colours and crochet them together, or knit 3 strips of 6 blocks each which you can join with a seam
3. Test your gauge and adjust needle size accordingly
To knit:
Panel 1:
With Colour 1, cast on 30 stitches and knit 24 rows in stocking stitch
Switch to Colour 2 and knit 24 rows in moss stitch
Switch to Colour 3 and knit 24 rows in K2P2 rib
Cast off
Panel 2:
With Colour 4 cast on 30 stitches and knit 24 rows in moss stitch
Switch to Colour 5 and knit 24 rows in K2P2 rib
Switch to Colour 6 and knit 24 rows in garter stitch
Cast off
For panels 3 to 6:
Repeat panels one and two twice each.
Or mix up the colours and stitches depending on how the mood takes you.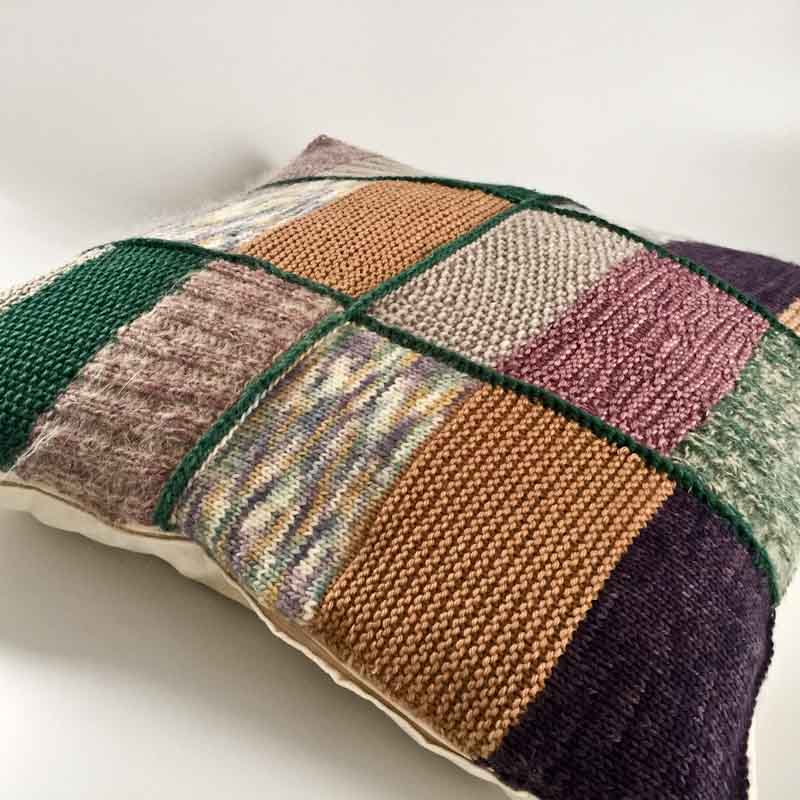 Finishing:
Wash or steam and block your panels.
Lay them out and decide where to place each one.
Join panels using a single crochet in one of your stronger colours, or close with any seaming technique.
Hand-stitch the cushion front onto your cushion outer and put the inner inside.
Style, photograph and post to Instagram or Facebook with a tag so we can admire your craftsmanship!