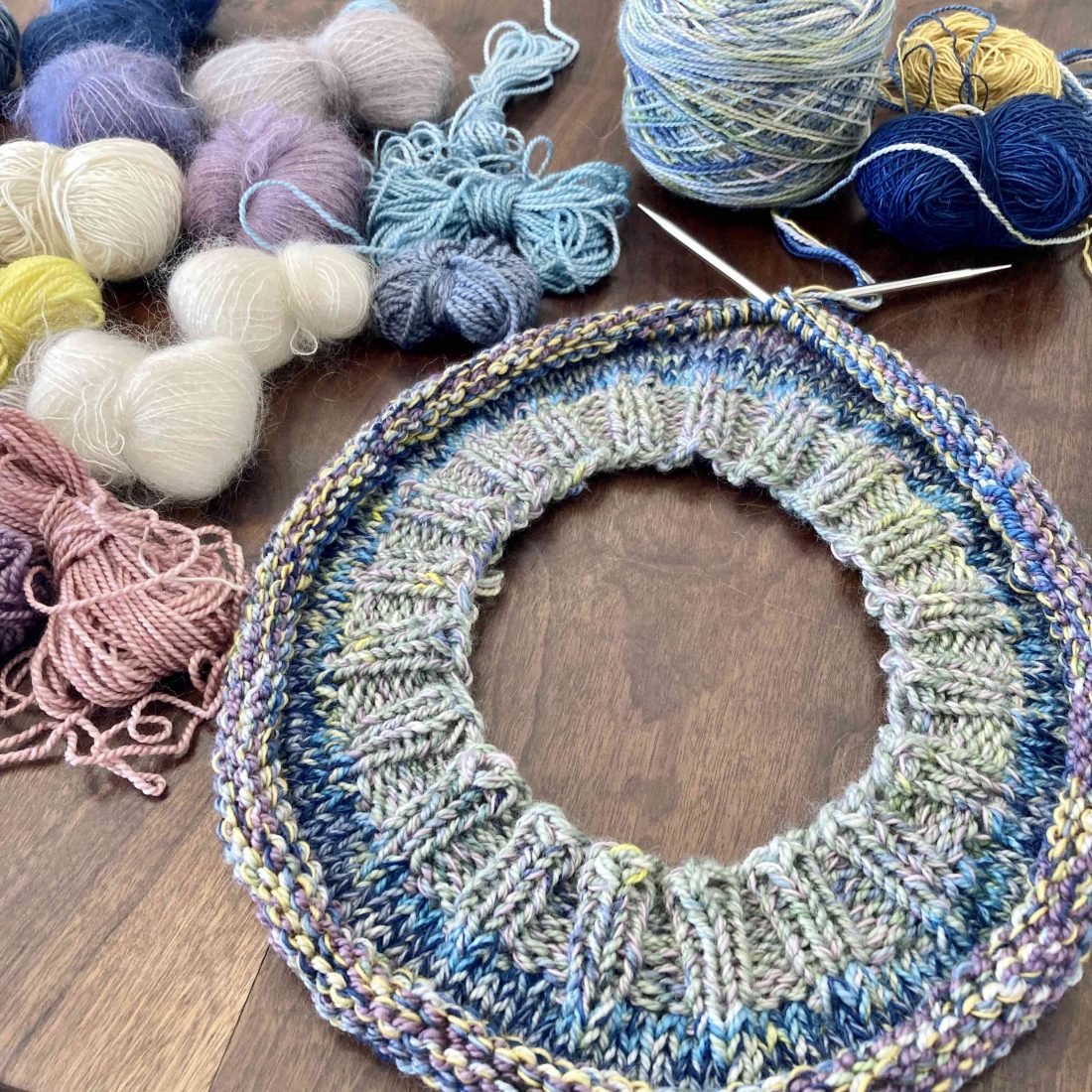 Change the Colour?
Can you change the colour of your yarn? It seems like a silly question. But maybe it's not.
A few weeks ago I brought home a skein of Space & Time from our "Cederberg" Limited Edition Series. Having just written a blog post of project ideas I was thinking about combining yarn and how it might change the colour of the main yarn. Read on to see where it took me …
Use what you've got
While our business survives because we keep selling you more yarn I also think it's important to use up what you've got. And this is especially true of all those little leftovers. So my perfect project is one that combines something old and something new. (This one happens to have blue too, but nothing borrowed!)
I went sorting through my odds and ends and got started.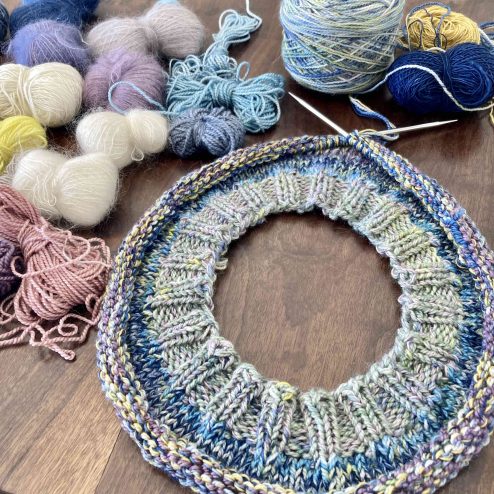 Marl with me
The knitting term is "Marling" – to combine multiple yarn strands for different colour effects. There are LOTS of rabbit holes on a search for terms like "marl" "marled" and "marling". But I was focussed on the making instead. So I went through my odds and ends with the colour elements of my main skein in mind.
Blues: Indigo, Airforce, Seagrass, Guinea Fowl, some old Tanzanite bits
Purples: Orchid Blush, Aubergine
Neutrals: Silver Fox, Sable, Natural
Some Lemon, Mustard and Sage (now it sounds like a recipe!)

I took out a bit of Faded Rose but didn't use it.
And I stuck with Merino Lace and Merino Twist.
You can see some Kidsilk in the above picture, but I didn't use that either.

My project idea was a slouchy beret-style beanie. And I subsequently worked up a free pattern for a Basic Bereanie
But for this one I was exploring. So using a biggish needle (4mm) I combined 4 strands of yarn – 2 x Merino Twist, 2 x Merino Lace Single.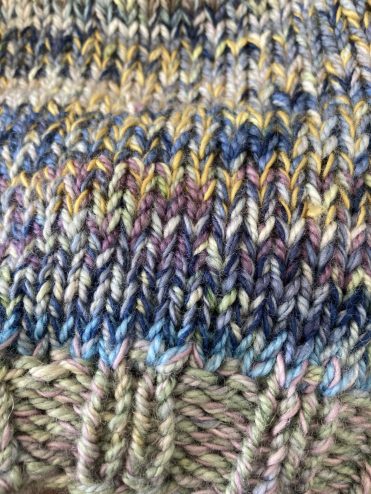 Do you need a plan to change the colour?
I made it up as I went, deciding what I liked and didn't. But that is up to you and how you are comfortable. For example, Sage in the rib was too green for me. So I let that go. Then the blues dominated. So I toned those down also, using Airforce which is a softer colour, and in the finer Lace weight so there wasn't as much of it. Then you can see the Mustard is very strong, even with only one strand of Lace weight. So I was figuring it out as I went along. But knowing I could change the colour as often as I wanted. All the time I was knitting I kept the original skein in the mix, and swopped bits and pieces in and out.
How many colours?
You may want to change the colours or the yarn bits and pieces often. Your leftovers might be small. But using too many colours can quickly deteriorate into a huge chaotic mess. In order to avoid this I repeated some of them. And you have probably already noticed that repetition works wonders in a project. So think about repeating colour or stitch pattern to create order from the chaos. Because apparently our eyes (and brains) like order.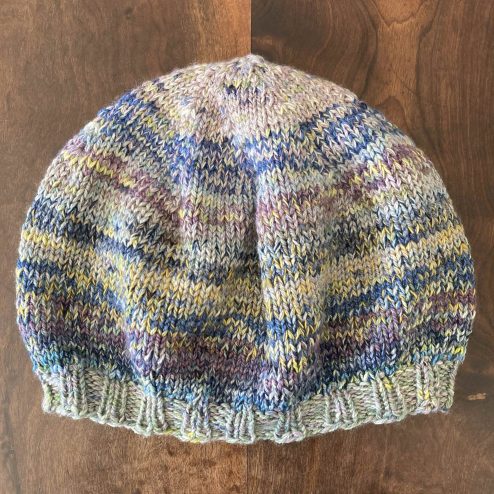 Colour repetition
If you look at the end result you can see I used Tanzanite after the first purple section to connect with the blues near the brim. And I repeated Aubergine and Orchid Blush.
Then further up a little bit of Lemon connected with the Mustard. And the neutrals at the crown allowed the yellow in the original skein to show.

Surprise!
My biggest surprise was how using Sable changed things at the crown. Our Sable recipe mixes black and brown. But brown is composed of red and green.
And Space & Time has a green flavour – both the green itself and the yellows and blues. So being surrounded by all that green brings out the red in the brown of Sable, and it looks almost like a pale dusty pink.
So, what do you think?
Maybe you can change the colour of your yarn after all …