Brick stitch Scarflet
Brick stitch is a beautiful introduction to slip stitch knitting and a lovely way to play with contrasting colours. Having seen a lot of slip stitch colour work around recently I decided to experiment with it myself. There are a lot of instruction options on the internet, but I decided Nadine Mcleod's was the most helpful, so I followed her instructions here.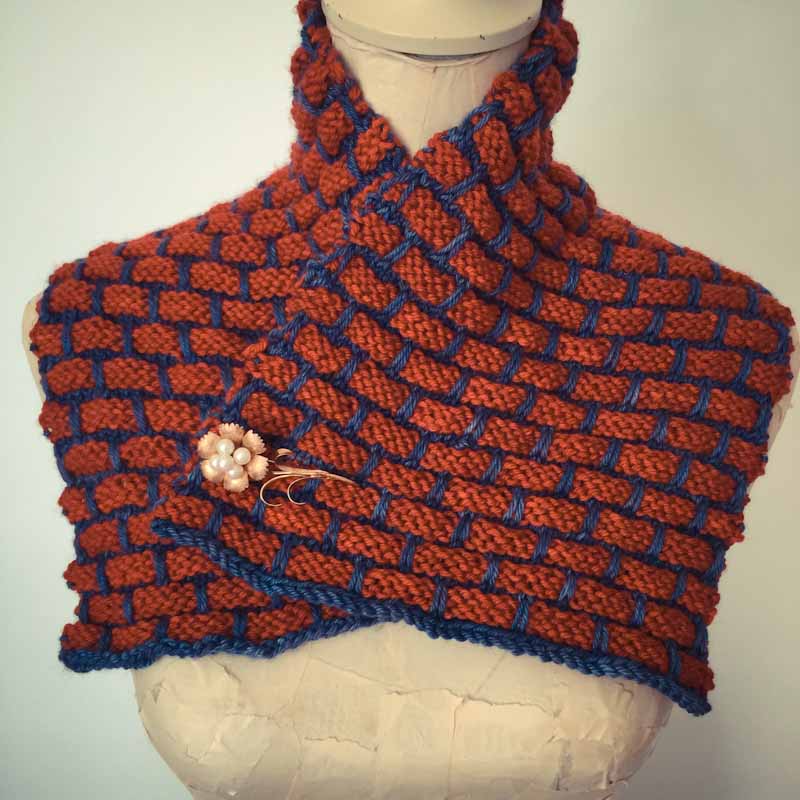 You can easily work this technique in the round, although I haven't tried that yet. Or you could knit a shorter piece and seam it to make a neckwarmer. It's also a beautiful pattern for a full length scarf if you are inspired to keep knitting.
Sizing:
One size, ~30cm wide x ~68cm long, this scarflet is designed to wrap and pin at your neck
Materials:
100g cowgirlblues Merino DK Main Colour B
50g cowgirlblues Merino DK contrast colour A
The pattern would also look beautiful with our Merino handspun, or try it in the Aran weight for a heavier knit
4.5mm needles
Gauge:
17 stitches and 25 rows = 10cm in garter stitch
Instructions:
In Contrast Colour A cast on 75 stitches (a multiple of 6 +3)
R1: (Colour A) Knit
R2: Purl
Change to Main Colour B and continue to follow the 12 row pattern repeat as per Nadine's blog
Don't forget to slip your stitches purlwise
Pattern from Texturedknits.blogspot.co.za
R R1: (Colour A) Knit
R2: Purl
R3:(color B)  K4, sl1 *K5, sl1; repeat to last 4 sts, k4
R4: K4, yf, sl1, yb, *K5, yf, sl1, yb; repeat from * to last 4 sts, k4
R5: P4, yb, sl1, yf, *P5, yb, sl1, yf; repeat from * to last 4 sts, P4
R6: Repeat row 4
R7: (color A) Knit
R8: Purl
R9: (color B)  K1, sl1, *K5, sl1; repeat from * to last st, k1
R10: K1, yf, sl1, yb, *K5, yf, sl1, yb; repeat from * to last st, k1
R11: P1, yb, sl1, yf, *P5, yb, sl1, yf; repeat form * to last st, p1.
R12: Repeat row 10
Continue the 12 row pattern repeat until your knitting measures 68cm or you have reached the desired length
Cast off at the end of a Contrast Colour A purl row using colour A 
Finishing:
Finish away your loose ends, block gently and find a beautiful scarf pin or brooch to finish the look